When it comes to a potential apocalypse, Republicans are more likely to believe that they will survive and thrive than are their Democratic counterparts.
Overall, 42 percent of Americans reported in a new YouGov poll that their survival time in the event of a cataclysmic event would be about the same as most of the individuals living in their community, with an additional 32 percent confident that they would actually outlive their peers.
But 11 percent readily admitted that they believe they'd perish relatively soon after the event.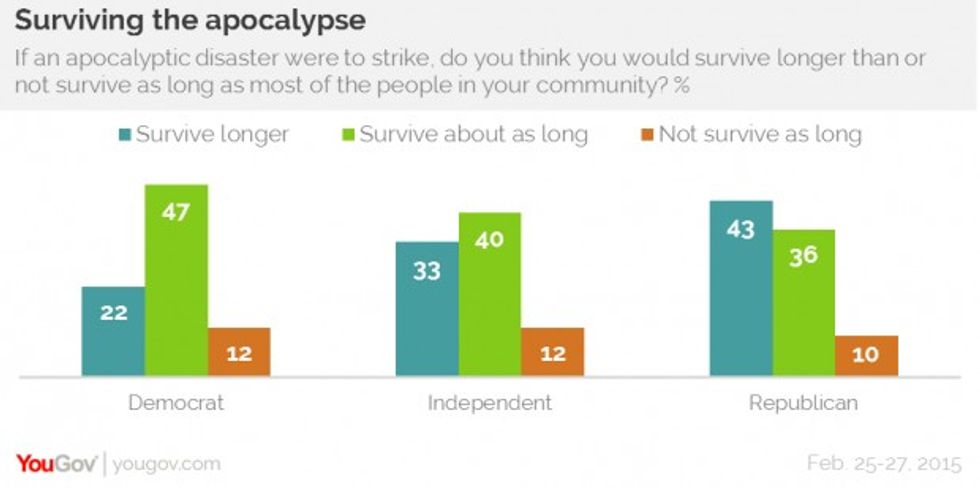 YouGov
Digging deeper into the data, though, the survey firm found an interesting difference between Republicans and Democrats when it comes to self-perceived survival. While 43 percent of Republicans said they believed they would survive longer than most in their communities, only 22 percent of Democrats said the same.
The survey also asked Americans what they think "will most likely cause the apocalypse," with 28 percent — the highest proportion — selecting "nuclear war." An additional 16 percent said "climate change and another "16 percent selected "Judgement Day," though 20 percent of respondents said that they did not believe that an apocalyptic event would unfold.
And while 45 percent of Americans reported spending absolutely no time thinking about "an apocalyptic disaster which ends civilization" as we know it, 55 percent have spent at least a "little time" considering such a prospect.
Read more about the results here.
(H/T: Mediaite)
--
Front page image via Shutterstock.com.