Planet Fitness canceled the membership of a woman who complained that a transgender person was using the women's locker room — and their response has ignited debate in the small Michigan city.
The controversy centers around an incident that happened in late February when Yvette Cormier complained over what she saw in the gym's Midland location.
"I was stunned and shocked," she told WNEM-TV. "He looked like a man. He did not look like a woman."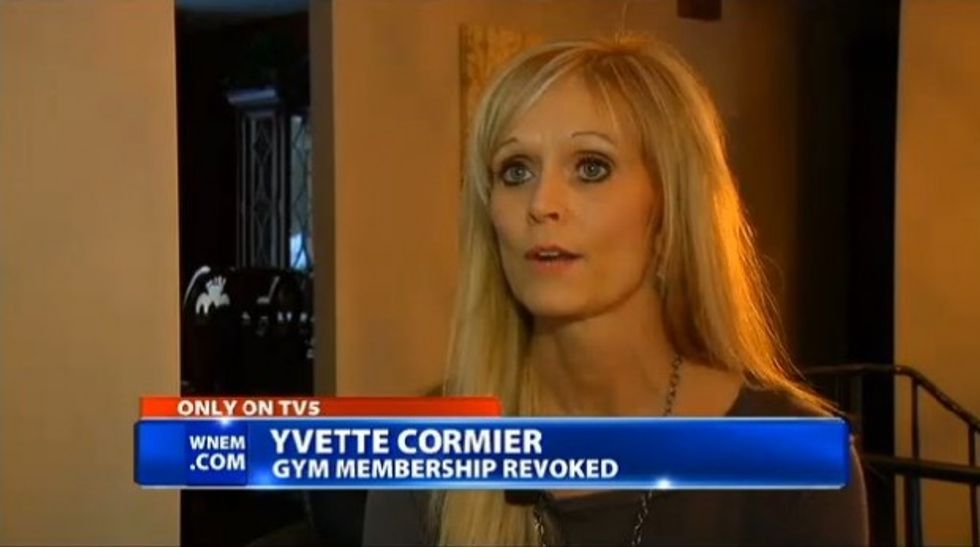 Yvette Cormier. (Image source: WNEM-TV)
Cormier said that when she complained to the front desk and later corporate, the gym said they embrace whatever sex a person identifies with — which is sometimes not what they were biologically assigned. The woman, however, kept telling other women about the policy.
Cormier ultimately was informed by a gym representative that her membership had been revoked for violating Planet Fitness' trademark "no judgement" policy.
"This is very unprofessional," she told WNEM. "This is very scary."
The gym later released a statement saying they are "committed to creating a non-intimidating, welcoming environment for our members."
"Our gender identity non-discrimination policy states that members and guests may use all gym facilities based on their sincere self-reported gender identity," the statement said. "The manner in which this member expressed her concerns about the policy exhibited behavior that management at the Midland club deemed inappropriate and disruptive to other members, which is a violation of the membership agreement and as a result her membership was cancelled."
The explanation didn't satisfy Cormier.
"I feel like it's kind of one-sided," she told Michigan Live. "I feel like I am the one who is being punished."
The incident has since ignited debate in Midland, with some women sympathetic toward Cormier and others siding with the gym.
"I don't blame her for freaking out," one woman told WNEM.
"I know that I might feel awkward," said another.
"He's obviously not in there to get a woman, so I don't see how it's a problem," argued one woman.
—
Follow Oliver Darcy (@oliverdarcy) on Twitter