A new study that re-analyzed so-called "yeti" hair samples from previous research that had identified them as belonging to an "anomalous ursid" might have disappointing news for those who thought the findings last year meant a "bigfoot" of sorts was still out there. Yet, the author of the original findings stands by his claims.
Research published in the journal ZooKeys found that the hair samples said to be from Central Asia and the Himalayas belong to a known species in those regions.
"We have concluded that there is no reason to believe that the two samples came from anything other than brown bears," the authors wrote in the study abstract.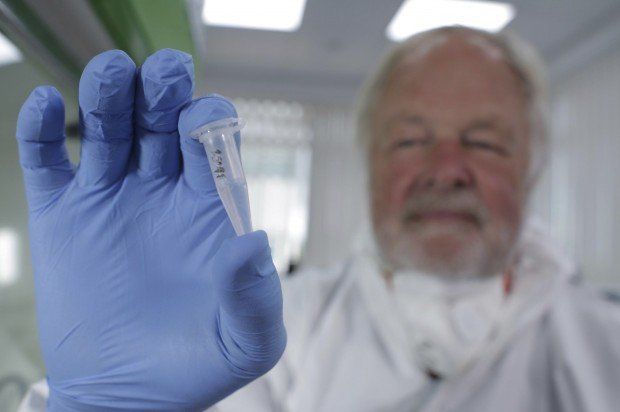 In this undated photo made available by Britain's Channel 4 television of Oxford University genetics professor Bryan Sykes posing with a prepared DNA sample taken from hair from a Himalayan animal. After scientists analyzed more than 30 hair samples reportedly left behind by Bigfoot and other related beasts like Yeti, they found all of them came from more mundane animals like bears, wolves, cows and raccoons. Two samples were said to have been from an "anomalous ursid," but new analysis suggests that the samples were from brown bears. (AP/Channel 4)
These authors used mitochondrial 12S rRNA sequencing on the same samples that Oxford University's Bryan Sykes and his fellow authors used in their study published last year. The issue Eliecer Guiterrez, a postdoctoral researcher at the Smithsonian's National Museum of Natural History, and his colleagues found with Sykes research was that his team used a fragment of DNA.
"We made this discovery that basically that fragment of DNA is not informative to tell apart two species of bears: the brown bear and [modern-day Alaskan] polar bear," Gutierrez told Live Science.
At the time of his 2014 study, Sykes et al. wrote "[...] it is important to bear in mind that absence of evidence is not evidence of absence and this survey cannot refute the existence of anomalous primates, neither has it found any evidence in support. […] The techniques described here put an end to decades of ambiguity about species identification of anomalous primate samples and set a rigorous standard against which to judge any future claims."
And Sykes still holds his ground, despite the more recent findings.
"What mattered most to us was that these two hairs were definitely not from unknown primates," Sykes told Live Science in light of the recent research. "The explanation by Gutierrez and [Ronald] Pine might be right, or it might not be."
To NBC News, Sykes said that Gutierrez' findings are "entirely statistical."
"The only way forward, as I have repeatedly said, is to find a living bear that matches the 12S RNA and study fresh material from it," he continued. "Which involves getting off your butt, not an activity I usually associate with desk-bound molecular taxonomists."
Daniel Loxton, an editor for Junior Skeptic, which is produced by the Skeptics Society, told Live Science that people will continue to believe in and seek out yetis, bigfoots and the like, because they are"fascinated by monsters, and they're fascinated by mysteries in general."
Blake Smith, in a blog post for the Skeptics Society laid out the whole saga involving Sykes research and the more recent analysis by Guiterrez. Smith ultimately concluded that he's "still convinced that Yeti and Bigfoot are not to be found in the forests and mountains of the Earth, but in the minds of people."
(H/T: Daily Mail)
—
Front page image via Shutterstock.