It may be one of America's most iconic beers, but nearly half of Americans can't spell its name.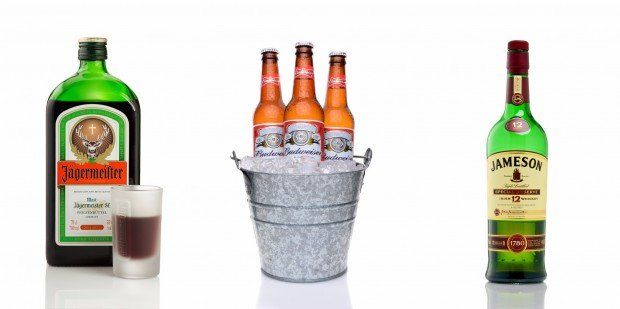 Jagermeister, Budweiser and Jameson are among Americans' most-misspelled alcohol names. (Images via Shutterstock)
MarketWatch reported Tuesday on the bizarre findings of tavern-tracking app Bartrendr, which analyzed some 100,000 postings and found that people misspelled "Budweiser" 42 percent of the time they used the name.
"German" may be the single biggest ancestry group reported in the U.S., but Americans struggle mightily with German names: Ahead of the Teutonic moniker Budweiser, Germany's Jägermeister topped the list of misspelled booze, getting misspelled 90 percent of the time largely because people had heard the word (pronounced "yay-ger-mice-ter") and substituted a "y' for the "j."
Other common misspellings: Jameson (23 percent), Hennessy (15 percent) and Jack Daniel's (6 percent).
On the other hand, Bartrendr reported that the complicated names of high-brow drinks — including single-malt Scotches such as Bruichladdich (one of Scotland's most unpronounceable names) and Laphroaig — were rarely misspelled.
Bartrendr co-founder Devon Bergman noted that that could be because drinkers of sophisticated spirits tend to be better-educated about their liquor, MarketWatch noted.
Bergman also noted that drinking the beverages they were posting about likely impaired some posters' spelling skills, though he couldn't say exactly how much of a role drunkenness played.
"We're not a breathalyzer app," he told MarketWatch.
—
Follow Zach Noble (@thezachnoble) on Twitter