Patriotism: Vice or virtue?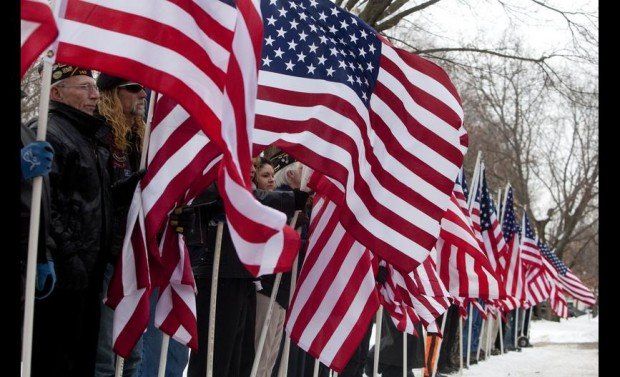 AP Photo/The Elkhart Truth, Jon Garcia
Secular humanist David Niose, writing in Psychology Today, argues that for many Americans, patriotism is sort of a knee-jerk reaction, an automatic instinct that is misplaced in the modern world:
It's been called the last refuge of scoundrels. It is undeniably linked to "us-against-them" tribal impulses, rooted in emotion and often impervious to reason. It feeds nationalism and militarism, making it a potentially dangerous phenomenon in a world of modern weaponry. Yet patriotism—outward, vocal, and enthusiastic patriotism—is still considered a vital element in American politics, an aspect of our culture that we not only tolerate but encourage.

To many humanists, this is worth rethinking.
Niose cited the controversy over a picture of a baby wrapped in an American flag as evidence that patriotism is "getting out of hand in America."
He also painted a picture of American ignorance, writing:
This aversion to facts is a defining characteristic of modern American patriotism. As Americans wave their flags and puff out their chests with national pride, they are oblivious to facts relevant to their own civil discourse. Only 35 percent of Americans could name even a single justice on the Supreme Court, according to the New York Times (link is external). The same piece revealed that 30 percent could not name the vice president, while even fewer could place the American Revolution in the correct century. It only gets worse when we ask Americans to consider facts outside their own borders. Reports show (link is external) that as many as 85 percent cannot locate Iraq on a map and more than half can't locate India.

This staggering lack of knowledge, combined with a blind and emotional patriotism, is a formula for disaster. The result is a proliferation of uninformed American exceptionalism that is akin to a social narcissism, a self-centered sense of importance and superiority that can have dire consequences.
At the end of his piece, Niose notes that "love of one's country" is "understandable," and he calls for a "healthy," non-aggressive form of patriotism.
What's your take? Take the poll below and discuss in the comments:
—
Follow Zach Noble (@thezachnoble) on Twitter