A new propaganda video released by Islamic State militants shows its "army of hardness" throwing bombs into buildings, shooting heavy artillery, sliding down ropes ... and getting stuck.
According to the Arabic news channel Alalam News Network, the eight-minute video shows Islamic State fighters preparing to defend the Iraqi city of Mosul, which is north of Baghdad.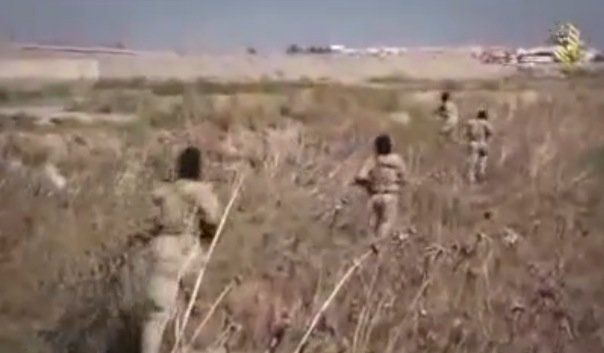 Image source: YouTube
Among its demonstrations was a masked man sliding down a rope upside down from a bridge. Instead of making a smooth landing, the man appeared to get awkwardly stuck for a moment before he could properly right himself.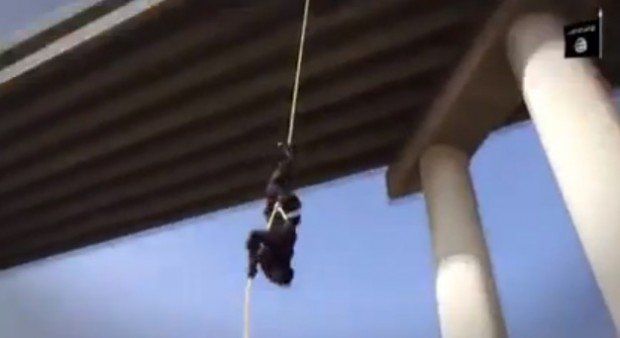 Image source: YouTube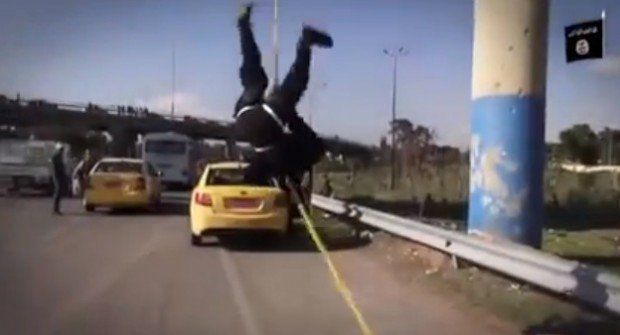 Image source: YouTube
Here's a shorter version of the video clipped and posted to YouTube to show that moment:
Naturally, many took to Twitter to express their thoughts on this move:
"ISIS propaganda video showing Elite Task Force http://t.co/BDDr0S7fV1 pic.twitter.com/qtH4T1VnHB" this makes me feel safe. Laugh out loud funny

— Mike Bogas (@BogeyWanKenobi) March 18, 2015
ISIS's not-so-special forces: Eight-minute propaganda video shows ISIS soldiers training http://t.co/st5x8l57e0 #ISIS pic.twitter.com/yDDSEa7baM

— Caspar Schliephack (@SerioSito) March 17, 2015
Best headline of the day? "#ISIS Not-So-Special Forces" as bungling terrorists share comical propaganda video http://t.co/BpYD9sGcnd

— Danielle C. Lindholm (@DCLindholm) March 17, 2015
Iraq's defense minister said Wednesday the Sunni province of Anbar remains key to launching the long-awaited operation to retake Mosul, the country's second-largest city, from the Islamic State group.
Khalid al-Obeidi told reporters that before Iraqi forces can even plan the Mosul operation, they must "secure" Anbar so that it cannot serve as staging ground for militant counterattacks.
Anbar, west of Baghdad, was the first province to fall under Islamic State's control during the group's blitz last year.
Al-Obeidi's remarks reflected the challenges Iraqi forces, backed by U.S.-led coalition airstrikes, face as they try and claw back territory captured by IS.
At the moment, Iran-backed Iraqi soldiers and allied Shiite militias are fighting to retake Islamic State-held Tikrit, an offensive that is taking place without U.S. airstrikes.
(H/T: Daily Mail)
—
The Associated Press contributed to this report.