A key House Republican said Wednesday that the Department of Veterans Affairs needs to fire two top officials responsible for being hundreds of millions of dollars over budget for major construction projects run by the broken agency.
House Veterans Affairs Committee Chairman Jeff Miller (R-Fla.) said Glenn Haggstrom of the VA's Office of Acquisition, Logistics, and Construction, and Stella Fiotes of the VA's Office of Construction and Facilities Management need to go.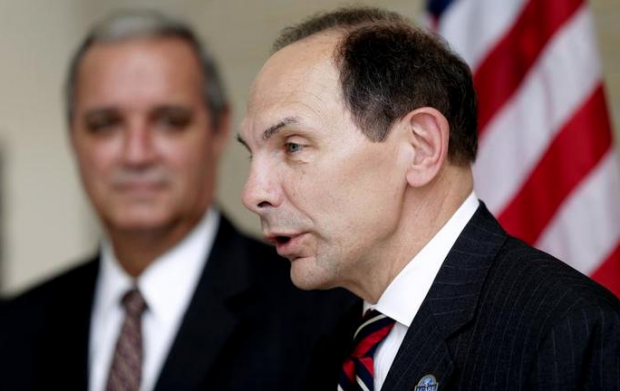 Rep. Jeff Miller (R-Fla.) (background) wants VA Secretary Robert McDonald (foreground) to fire a few officials for botching major construction contracts. Image: AP Photo/Chris O'Meara
"No reasonable person could conclude that [they] are doing a good job," Miller said. "Therefore, I am calling upon VA's leadership to fire them immediately."
Miller has argued before that these officials have botched some of the biggest VA construction projects. A new VA hospital is more than $1 billion over budget and is years behind its completion schedule.
But Miller said that while legislation passed last year lets the VA fire people for negligence or corruption, Haggstrom and Fiotes still have their jobs.
"Every single member of VA's top leadership is fully aware of these issues, yet the senior executives who presided over the mismanagement that led to them remain firmly entrenched at VA, where they collect generous taxpayer-funded salaries," he said.
"It's well past time for the department to fire Haggstrom and Fiotes or explain to America's veterans and American taxpayers why these individuals have earned the right to continued VA employment," he added.
VA Secretary Robert McDonald has fired just a few senior VA officials, but officially, they were let go for reasons other than their role in the VA health care scandal.