Things got a little awkward during a discussion about racism on Tuesday night's "All In With Chris Hayes" on MSNBC.
Hayes invited "CBS Sunday Morning" contributor Nancy Giles and DJ and online commentator Jay Smooth to discuss Starbucks' new "Race Together" initiative.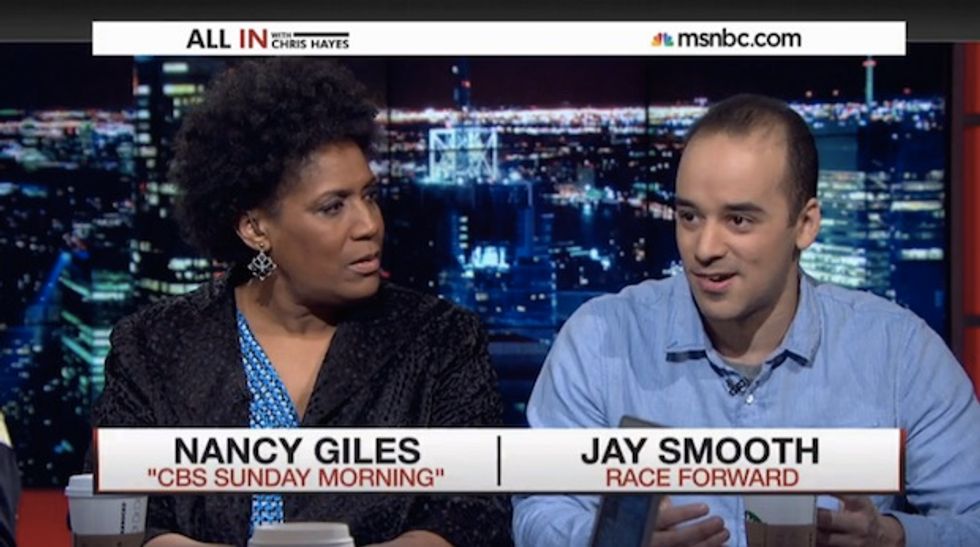 Image source: MSNBC
Smooth, while not slamming the coffee company's program, pointed out what he considered to be a major fault: "When [Starbucks CEO] Howard Schultz wanted to help veterans, he didn't just tell people to have a conversation about how much they like veterans — he committed to a plan of action."
The trio of Hayes, Giles and Smooth danced around the topic, seeming to agree that racism in America was a legitimate topic that required more discussion, but also action.
Then Hayes played a 2008 video from Smooth. In the clip, which Hayes referred to as "a great bit of wisdom," Smooth advised people to approach the conversation on race: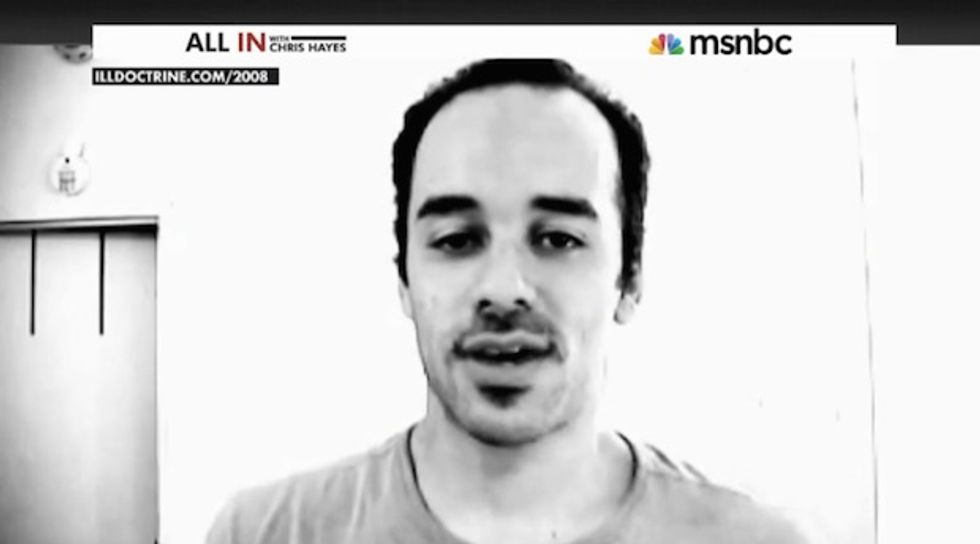 Image source: MSNBC
When somebody picks my pocket, I'm not gonna to be chasing him down so I can figure whether he's a thief deep down in his heart. I'm gonna be chasing him down so I can get my wallet back.  I don't care what he is. But, I need to hold him accountable for what he did. And that's how we need to approach these conversations about race -- treat them like they took your wallet and focus on the part that matters -- holding each person accountable for the impact of their words and actions.
After the clip ended, Giles remarked: "I can't not tease Jay about the way, kinda like 'brother way' he was trying to talk. You know, like 'Hey' with the rap music in the background and like, 'I'm down with the people.'"
Smooth shrugged it off, "I'm a rap guy."
"Yeah, I know," Giles continued, "but it's another interesting, funny thing about race, there would be some people that feel you co-opted something like that and other people might feel that's his background and that's really cool, too."
Giles became even more animated, gesturing with her hands and saying, "These are conversations like, 'Yo, yeah if somebody takes my wallet' — it's really interesting.'"
Then Smooth delivered the uncomfortable news to his co-panelist: "That's also interesting because I'm actually black, but you assumed otherwise."
He added, "And this is the kind of awkwardness we can look forward to in Starbucks' across America."
"But on top of all of that, I am clearly brown-skinned and people are always saying to me, 'You talk white, you act white, you wanna be white, you white,'" she responded.
Hayes jumped in and brought the segment back on track, asking, "The question is: Can you have that conversation ... with the person handing you the espresso?"
Reached by TheBlaze, Giles said in response to the segment: "Race is imprecise, as is talking about it. I think talk gets something started, and leads to understanding and action."
Watch the entire segment below — the embarrassing exchange begins at the 5:20 point:
(H/T: Gawker)
__
Follow Mike Opelka (@Stuntbrain) on Twitter