President Barack Obama said that in the long term "it would be fun" to go through the process of amending the Constitution to put limits on campaign contributions, but said the short-term solution to curbing the influence of money in politics is if "everybody voted."
At a town hall meeting in Cleveland Wednesday, an audience member asked Obama about overturning the 2010 Citizens United Supreme Court decision, in which the justices deemed limits on political spending to be a violation of free speech.
"Here's the problem. Citizens United was a Supreme Court ruling based on the First Amendment. So it can't be overturned by statute," Obama said. "It could be overturned by a new court or it could be overturned by a constitutional amendment. Those are extraordinarily challenging processes."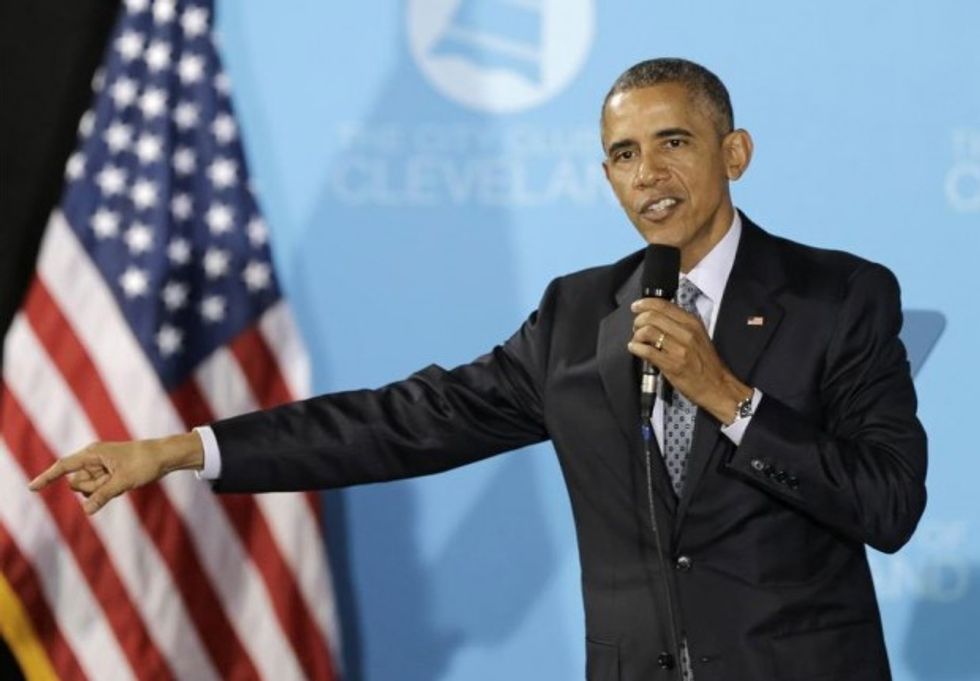 President Barack Obama speaks at The City Club of Cleveland, Wednesday, March 18, 2015, in Cleveland. Obama visited Cleveland, in the all-important presidential battleground state of Ohio, delivering a speech focusing on middle-class economics and to draw contrasts with Republicans over federal spending. (AP Photo/Tony Dejak)
Obama said that in the short term, policymakers should consider other avenues to blunting the power of money.
"In Australia and some other countries, there is mandatory voting. It would be transformative if everybody voted," Obama said. "That would counteract money more than anything. If everybody voted, then it would completely change the political map in this country, because the people who tend not to vote are young. They are lower income. They are skewed more heavily toward immigrant groups and minority groups."
Obama said "there is a reason some people try to keep them away from the polls."
"We want to get them into the polls. That may be a better strategy in the short term," Obama said. "In the long term, I think it would be fun to have a constitutional amendment process about how our financial system works. But realistically, that would be a long-term proposition."
Obama in 2008 became the first presidential candidate in a general election to forgo federal matching funds – a post-Watergate reform that required candidates to voluntarily limit their donations they receive if they accept federal matching funds.
"The almost unlimited amounts of money spent, I think it's bad for our democracy and I speak as someone who has raised a lot of money. I'm very good at it," Obama pointed out. "It's not that I'm not good at it. I just don't think it's not a good way for our democracy to work."