© 2023 Blaze Media LLC. All rights reserved.
Gun Business Has a Simple Message for Gov't: 'Get Their Grubby Hands Off Our Industry
"Why does the government have to get involved with so much of the process?"
A firearm suppressor company has begun a movement for gun owners to "Fight the Noise." That is, advocate for the right to protect their hearing with firearm silencers without them being subject to extra taxes and paperwork.
"The Suppressed are changing the perception of an industry and leading the revolution with a clear message: Guns don't have to be loud," SilencerCo's Fight the Noise website stated.
SilencerCo CEO Josh Waldron told TheBlaze that the suppressor industry has grown by leaps and bounds within the last five years. With that greater interest in the market, it now has the foundation to start a movement in the hopes of changing what it considers an antiquated federal law.
"We're asking the federal government to get their grubby hands off our industry," Waldron said.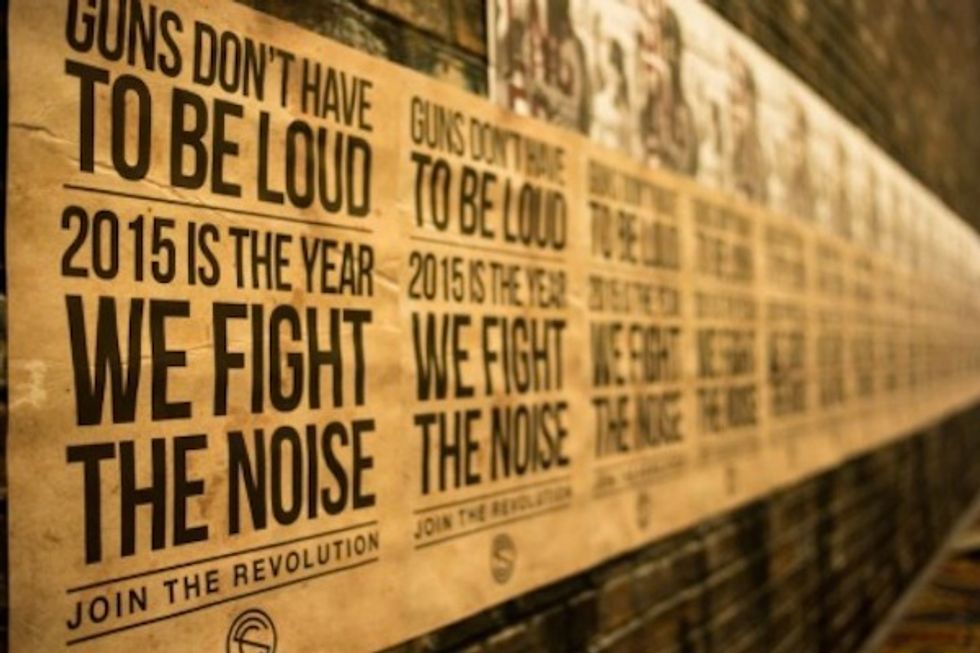 Image source: SilencerCo/Fight the Noise
The National Firearms Act of 1934 requires people wanting to purchase a suppressor to first pass a background check through the Bureau of Alcohol Tobacco and Firearms, which the American Suppressor Association notes takes anywhere from 60 to 120 days, and pay $200 transfer tax.
Though, Waldron said that the application can take even longer to go through.
"The branch that you submit paperwork to is inundated with the growth," he said. "They haven't grown with us. Last year, we were in a 12-month wait for consumers to go and buy a muffler to buy a gun."
A muffler, like that for a car, is what the Fight the Noise supporters, calling themselves "The Suppressed," compare firearm silencers to. You can still hear a gun with a suppressor being shot, Waldron said, noting that they're not completely silent as portrayed in movies.
"The fact of the matter is you wouldn't drive around your car without a muffler. When guns don't have to be loud, why would you do that?" Waldron said. "It's just a common sense device that makes shooting a firearm safer and more enjoyable. Why does the government have to get involved with so much of the process?"
According to the American Suppressor Association, which Waldron helped found, suppressors are legal in some capacity most U.S. states. Waldron said the industry has seen political success in many states, in part, because it hosts lawmakers and others at shooting ranges to show them what a suppressor really does.
"We say, listen, if you're worried about these products, it's because you don't understand them. Come out to the range and understand them," Waldron said.
Since 2011 when the ASA was formed, 12 states legalized suppressors for hunting, two states made amendments to ownership laws and several others passed "shall sign" legislation.
Image source: SilencerCo/Fight the Noise
Some of the benefits of using a suppressor, cited by the ASA are hearing protection, hunting safety, prevention of noise complaints and improved accuracy.
Those wishing to join "The Suppressed" in the Fight the Noise movement can fill out an online form and then receive a kit that has "Fight the Noise" tape inside of it. The campaign encourages supporters to put the tape across their mouths, take a photo and share it on their social media accounts.
"The Suppressed are law-abiding, gun-owning citizens whose voices have been oppressed by unjust legislation," the SilencerCo's website stated.
Watch MTB Freerider Cam Zink talk about his own reasons for joining The Suppressed:
Learn more about the Fight the Noise movement on SilencerCo's website.
Want to see another video of a SilencerCo suppressor in action? Check out the post TheBlaze did last year on it.
Want to leave a tip?
We answer to you. Help keep our content free of advertisers and big tech censorship by leaving a tip today.
more stories
Sign up for the Blaze newsletter
By signing up, you agree to our
Privacy Policy
and
Terms of Use
, and agree to receive content that may sometimes include advertisements. You may opt out at any time.