President Barack Obama signed an executive order Thursday to slash the federal government's greenhouse gas emissions, which the White House said is the equivalent to taking 5.5 million cars off the road.
Specifically, the order aims to cut federal agencies' emissions 40 percent from 2008 levels over the next decade. It will also increase the level of electricity from renewable energy by 30 percent — a likely boon for solar, wind and other alternative energy industries the Obama administration has subsidized over the last six years.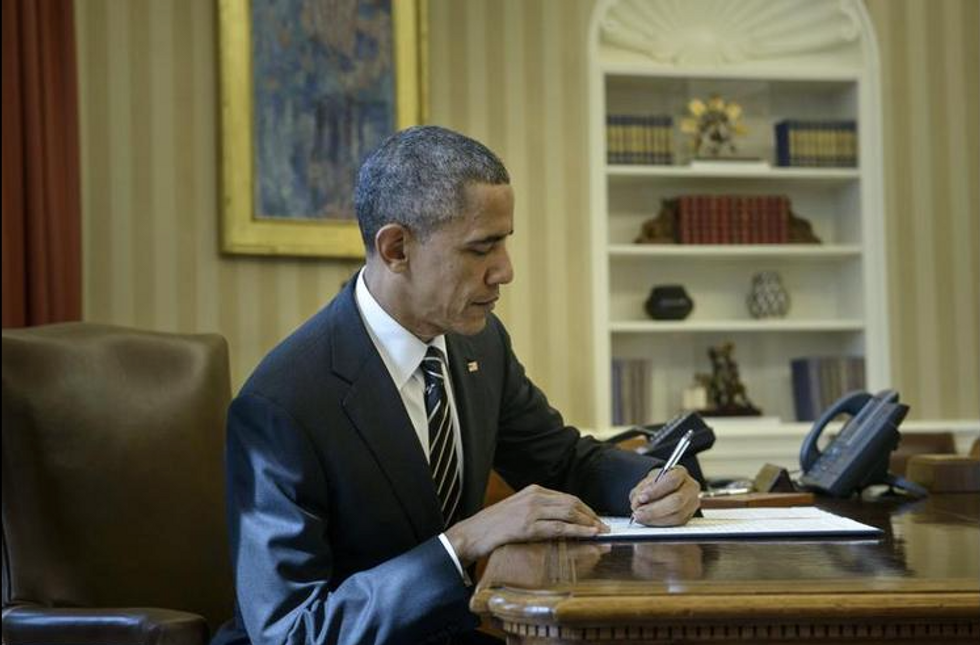 President Barack Obama signs an executive order to reduce the U.S. government's greenhouse gas emissions, March 19, 2015. (AFP Photo/Brendan Smialowski)
Obama has been unable to get cap and trade legislation through Congress, and has vowed to take unilateral action on addressing climate change when possible. In an interview last week, Obama said some lawmakers that don't want to take action on climate change are "shills" for the oil industry.
After signing the order, Obama went to the Department of Energy to participate in a roundtable discussion with industry executives that supply energy for the federal government, the nation's largest energy consumer.
The White House says the decreased use in emissions will save taxpayers up to $18 billion through 2025. Federal energy suppliers represent more than $187 billion, or more than a third of all federal contract spending.
The White House also announced establishing a "scorecard" for companies that contract with the federal government to show if the companies disclose their emissions and have a target date for reductions.
Companies such as Lockheed Martin, Boeing, Accenture and IBM scored well. Federal contractors such as CACI International, Health Net, Exelis and General Atomic Technologies did not score as well on disclosure and goals.
The new action is part of Obama's commitment made with China in November to cut emissions by up to 28 percent below 2005 levels over the next decade.