The Obama administration announced Thursday that it has a new analytic tool for measuring how many people visit government websites, a move that has the potential to let the government obsess over its web traffic just like the thousands of companies that have websites.
The White House launched a digital analytics dashboard, a site that reveals how many people are on all federal government websites right now, and how many have visited over the last day, week and month.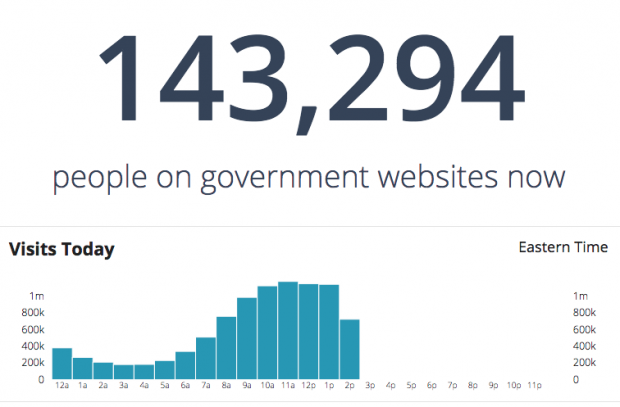 The federal government has its own tool for measuring traffic on a range of government websites, and says it wants to use this tool to see how it can provide users with a better online experience. Image: analytics.usa.gov
At first blush, federal websites appear to get reasonably healthy web traffic from users. The tool said there have been 1.35 billion visits by people over the last 90 days, and it said more than 140,000 people were on federal sites by mid-Thursday afternoon.
But there are signs that most users are gravitating toward a few basic uses for federal sites.
For example, the "Where's My Refund" web page at the IRS was the top page visited on Thursday. That page has also been the most popular over the last week and the last month, far out-performing other sites.
Lots of other eyeballs are going to federal pages that deal with the government's weather forecasting service. Three of the five most popular pages deal with weather forecasting.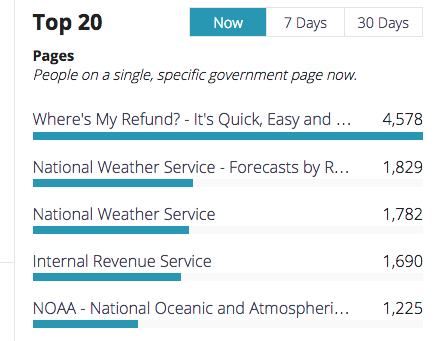 It turns out, lots of people want their tax refund and they want to know if it's going to rain today. Image: analytics.usa.gov
After that, it drops off pretty quickly. Pages dealing with immigration status and Social Security are in the top 20, as is a page people can use to apply for federal jobs.
The White House said it would use the tool to get a better grip on why and how people are accessing federal sites, in part to make sure these sites work on mobile devices, and also to help manage seasonal surges, such as the boost in traffic to the IRS as tax day approaches.
The White House also stressed that no personal information is being kept as it monitors how people are using government websites.
"The dashboard will help government agencies understand how people find, access, and use government services online to better serve the public – all while protecting privacy," it said. "The program does not track individuals. It anonymizes the IP addresses of all visitors and then uses the resulting information in the aggregate."
The White House announced the new tool during "Sunshine Week," a week in which the government is celebrating transparency in government. However, that theme has already been marred by a White House decision to say its office in charge of archiving emails will now not be subject to public records law.