The towel you dry your hands on after washing them in the kitchen might be negating your cleaning efforts.
A new study pegged towels as the most contaminated objects in home kitchens and says they could be a source of spreading foodborne illness.
"First, participants were observed frequently handling towels, including paper towels, even when not using them for drying," Kansas State University food safety specialist Jeannie Sneed said in a statement. "Towels were determined to be the most contaminated of all the contact surfaces tested."
Study participants were seen touching kitchen towels more than just after they washed their hands, which the authors said could result in cross-contamination. (Photo credit: YouTube)
The study found that salmonella can grow on cloth kitchen towels, leading the researchers to suggest people wash towels properly after meal prep or switch to paper towels.
The other potential culprit for cross-contamination, the researchers found, is not even a permanent feature in the kitchen: It's your cellphone and tablet.
"We often take our cellphones and tablets into the kitchen, but what about all the other places we take them?" Sneed asked. "Think of how many times you see someone talking on their cellphone in places like the bathroom, where microorganisms such as norovirus and E. coli are commonly found."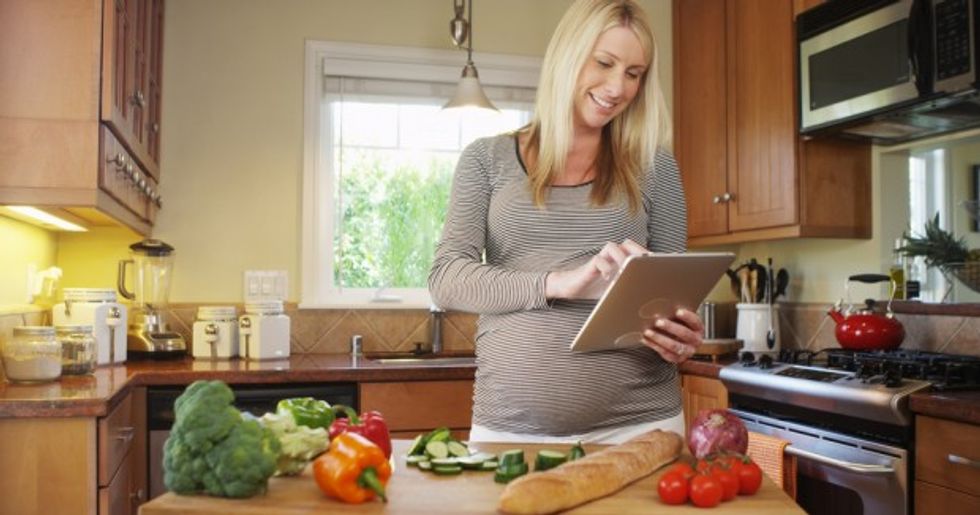 A tablet is great for looking up recipes in the kitchen, but where else has it been? (Photo credit: Shutterstock)
The study authors created a mock-kitchen in which to observe participants and had them prepare a couple of different foods. They put a tracer organism that is not harmful in the raw meat product study participants were asked to use and used that to track contamination.
Here are some tips from the food safety specialists involved in the study to ensure the healthiest conditions in the kitchen:
1. Wash your hands; don't just splash and dash.
2. Wash your cloth towels.
3. Don't use sponges, but if you must, use proper sanitizing methods.
4. Use a food thermometer.
5. Separate duties of commonly used items.
6. Think like a microbiologist; sanitization is your new best friend.
"Anytime you're handling food, especially if it's a raw meat product, you have to slow down and think about where contamination exists,"  Randall Phebus said in a statement. "Don't feel like you and your family are invincible, because these diseases can have drastic and deadly effects. Cross contamination is not an elementary thing. You need to put thought into it and try to improve."
The Kansas State study was published in the journal Food Protection Trends.
(H/T: Science Daily)
—
Front page image via Shutterstock.