Story by the Associated Press; curated by Dave Urbanski
SEATTLE (AP) — Ten years ago, Louisville coach Rick Pitino talked to his team about the danger of drugs at least once a week.
These days, the prevailing topic is about how to treat women.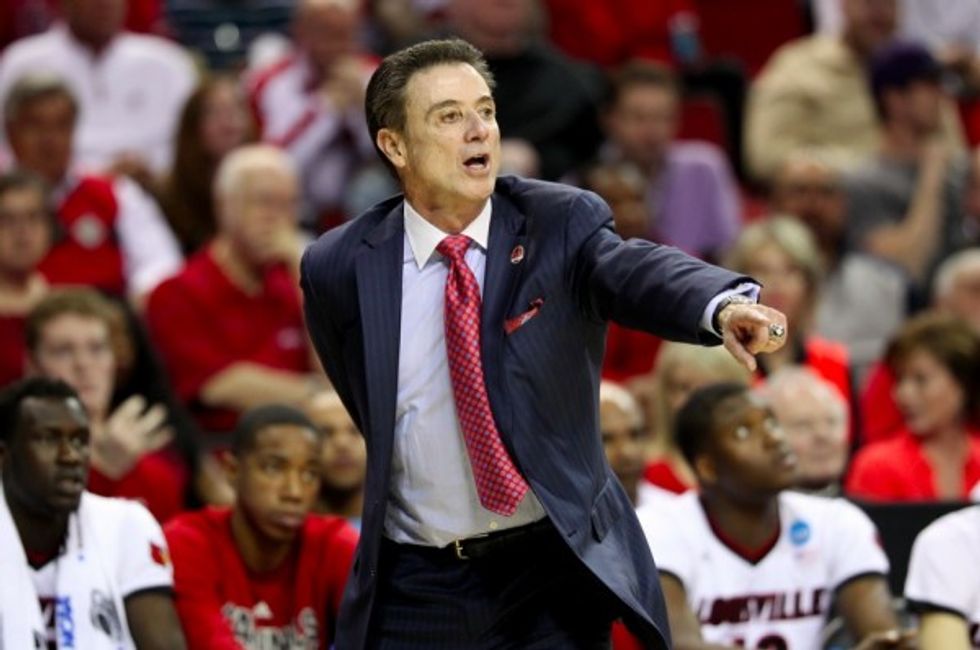 Head coach Rick Pitino of the Louisville Cardinals gestures from the sidelines in the second half against the UC Irvine Anteaters during the second round of the 2015 NCAA Men's Basketball Tournament at KeyArena on March 20, 2015, in Seattle, Washington. (Image source: Otto Greule Jr/Getty Images)
Stories about domestic violence, rape and sexual misconduct have cluttered the sports pages over the past several months, making it impossible for a coach to ignore.
Louisville dismissed guard Chris Jones from the team in February, days before Jones appeared in court to plead innocent to rape and sodomy charges. A grand jury will decide whether he will face trial.
Asked about the topic Saturday, with the Cardinals preparing to play Northern Iowa in the NCAA Tournament, Pitino says he talks frequently to his team about "how to treat women."
"And just getting them to understand what the world is today," he said. "And that getting the one slight mistake can cost you forever. Those mistakes are unforgivable. Let's take a situation where a young man may be innocent, but it's already out there whether he's innocent or not, he's scarred for life. So it's something that players must be aware of today."
[sharequote align="center"]"...one slight mistake can cost you forever."[/sharequote]
Pitino has had his own issues involving a sex case. In 2010, the coach testified that he had sex with a woman at a restaurant in 2003. The woman was convicted of extortion for demanding money from Pitino to keep the tryst secret. After she was charged, she told police Pitino raped her, but the coach was never charged.
Last year, the NCAA partnered with the White House, the U.S. Olympic Committee and several of the college conferences on the "It's On Us" campaign — designed to increase awareness and help universities deal with sexual assault cases on campus.
Iowa coach Fran McCaffery — whose team plays Gonzaga on Sunday — said he, too, spends a lot of time with his players discussing their relationships with women.
"I don't think it's a bad thing that there's conversation going on about it, and hopefully that will curtail future examples of it," McCaffery said.
—
Follow Dave Urbanski (@DaveVUrbanski) on Twitter