Actor and director Sean Penn says Americans are not being shown enough "real violence" by the news media and thus have become "anesthetized" to the "horror of war" and "anesthetized by political correctness."
Penn, who plays a hit man in the newly released film "The Gunman," was asked in an interview with Britain's Telegraph newspaper if he has watched Islamic State beheading videos out of a sense of moral obligation.
"Uh-huh. I've watched them. And anyone who sees them and claims that they were anesthetized by violent movies, that they weren't horrified by what they saw, on the most primal level, is intellectually dishonest or existentially unpresent," the Oscar-winning actor told the Telegraph in the interview that was published Saturday.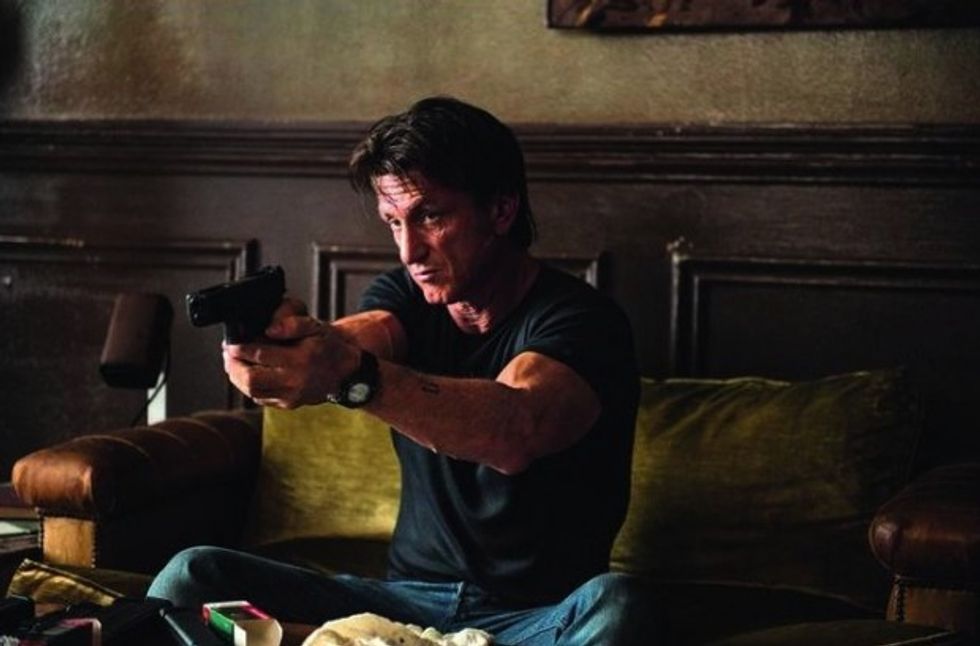 This photo provided by Open Road Films shows Sean Penn as Jim Terrier in a scene from the film, "The Gunman," which opened in theaters on Friday, March 20, 2015. (AP Photo/Open Road Films, Joe Alblas)
"The Gunman" tells the story of a sniper who kills a top official in Congo only to become a target himself.
Penn was asked if his film might anesthetize audiences to real violence, and if Americans - who the interviewer said were "divorced from reality by violent movies" – were watching Islamic State videos for entertainment.
"I don't think that is the case," Penn told the Telegraph. "As someone who grew up with violent movies, more violent than filmmakers are prepared to be today, 'Bonnie and Clyde,' for example."
"The problem," Penn said, "is we are not seeing enough of real violence. We are being anesthetized when you don't see the horror of war. In the Sixties, we grew up with the horror of Vietnam on our television screens every day. Today we have become anesthetized by political correctness. The American news channels did this with the Iraq war; they wouldn't show what it was about, they wouldn't show the caskets coming home."
Penn also discussed Clint Eastwood's film "American Sniper," suggesting he did not agree with criticism some liberals have leveled at the film.
"Here's the thing. I don't see the same problems with it [as others do], not because of my relationship with Clint. I don't see the glorification," Penn said. "I probably go into a zone when it comes to military films, where I am assessing the technical aspects of the filmmaking more than the political message."
"Clint and I have had some political discussions and he is a committed libertarian. I don't think he is by any means a conventional Republican," Penn told the Telegraph.