© 2023 Blaze Media LLC. All rights reserved.
Is the Obama administration protecting criminal aliens from deportation? Republicans demand answers.
Republicans in the House and Senate are demanding more details about the more than 2,000 criminal aliens that were arrested earlier this month, including how many of them have asked the Obama administration for — and how many might still receive — protection from deportation.
GOP members are asking more questions after it was reported last week that of the 2,059 criminal aliens who were arrested as part of a nation-wide sweep called Operation Cross Check, at least 23 of them had benefitted from President Barack Obama's Deferred Action for Childhood Arrivals program. That 2012 program, also called DACA, lets younger illegal immigrants stay and work in the United States.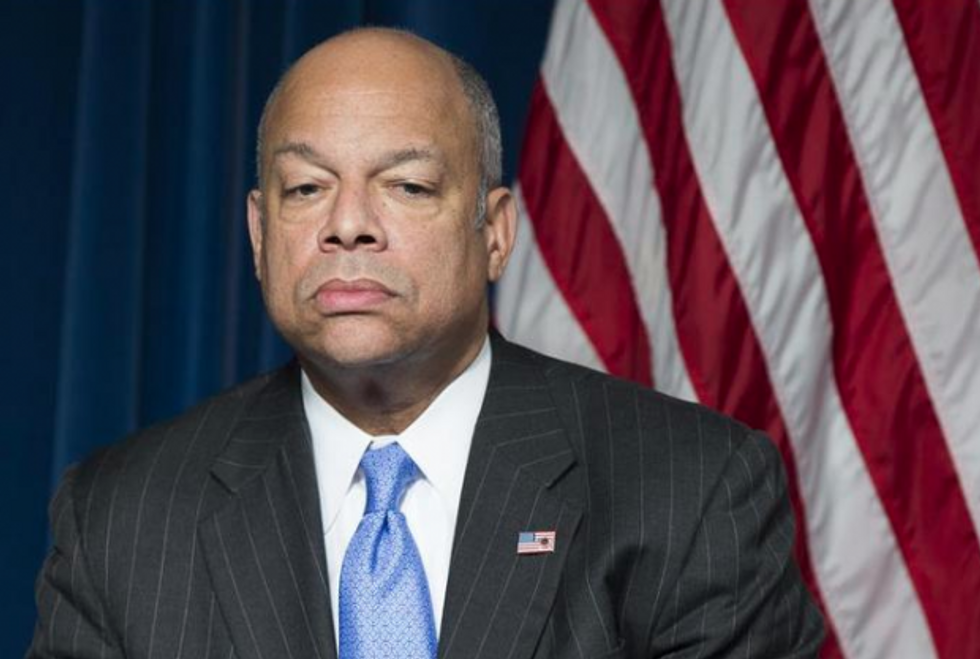 Republicans are asking Homeland Security Secretary Jeh Johnson if he is overseeing the protection of criminal aliens from deportation. Image: AP Photo/ Evan Vucci
According to a Monday letter that GOP members sent to Homeland Security Secretary Jeh Johnson, the Obama administration has confirmed that 23 of these illegal immigrants who were arrested had applied under DACA. They said in light of that information, more needs to be known about how U.S. Citizenship and Immigration Services and Immigration and Customs Enforcement are accepting people under DACA.
"This raises serious concerns about the manner in which USCIS checks the backgrounds of DACA applicants and consults with ICE regarding DACA applicants," they wrote.
Operation Cross Check arrested many aliens who had convictions for manslaughter, child pornography, robbery, kidnapping, rape and drunk driving. Republican members said it's therefore important for the administration to ensure these people are removed from the United States, and not given approval to stay longer.
"Arresting, detaining, and ensuring the removal of these dangerous criminal aliens - individuals ICE has deemed to be of the highest priority for removal - is of great importance to Congress and the American people," they wrote. "Now your department must ensure their removal from the United States so that they are not again released back into our communities to commit more crimes."
Sens. Jeff Sessions (R-Ala.) and John Cornyn (R-Texas), and Reps. Bob Goodlatte (R-Va.) and Trey Gowdy (R-S.C.) asked several questions of DHS, including how many of those arrested have an initial DACA application or a DACA renewal application in the works, and asked for the full criminal histories of these applicants.
DACA was expanded by Obama's executive action on immigration in November, but it has since been blocked by a federal court, which issued an injunction against it. A federal appeals court is expected to decide later this week if that injunction will remain in place, or if it will be lifted as the courts hear arguments that Obama's action violated the Constitution.
Read the GOP letter here:
Want to leave a tip?
We answer to you. Help keep our content free of advertisers and big tech censorship by leaving a tip today.
more stories
Sign up for the Blaze newsletter
By signing up, you agree to our
Privacy Policy
and
Terms of Use
, and agree to receive content that may sometimes include advertisements. You may opt out at any time.