President Barack Obama said his relationship with Israeli Prime Minister Benjamin Netanyahu is "very businesslike," amid a flurry of reporting of the two leaders' icy relationship.
Obama previously used the term "businesslike" to describe his interaction with Russian President Vladimir Putin.
"There is a tendency in the reporting here to make this a personal issue between myself and Prime Minister Netanyahu. I understand why that is done because," Obama said Tuesday during a joint press conference with Afghan President Ashraf Ghani at the White House.
"I have a very businesslike relationship with the prime minister," Obama said. "I've met with him more than any other world leader. I talk with him all the time. He is representing his country's interest the way he thinks he needs to. I'm doing the same."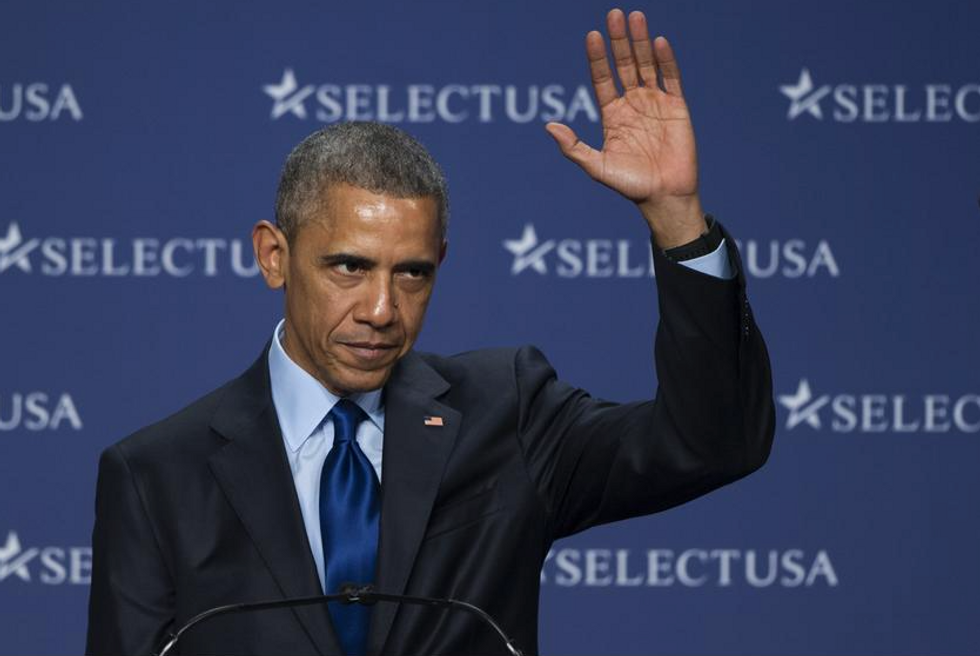 President Barack Obama waves after speaking at the SelectUSA Investment Summit, hosted by the Commerce Department, Monday, March 23, 2015, in National Harbor, Md. (AP Photo/Cliff Owen)
In the final hours of campaigning last week, Netanyahu said there would be no Palestinian state if he were re-elected, given the current security climate. He walked back the comment after the election. Still, Obama said, "I took him at his word," and said the comment would make it tough to reach a two-state solution deal.
Obama said it is not a matter of how to leaders get along, but rather a substantive disagreement.
"We believe that two states is the best path forward for Israel security, for Palestinian aspirations," Obama said. "That's our view and that continues to be our view. And Prime Minister Netanyahu has a different approach. And so this can't be reduced to a matter of somehow let's all hold hands and sing Kumbaya."
The White House has said for several days it will be re-evaluating how it deals with the two-state solution matter at the United Nations, which has previously sought to impose a Palestinian state without Israel.
"The re-evaluation that is taking place is specific to what happens with Israelis and Palestinians going forward," Obama said. "What we can't do is pretend that there is the possibility of something that is not there. We can't pretend that the premise of public diplomacy based on something that everybody knows is not going to happen, at least not for several years. For the sake of our own credibility, we have to be honest about that."