Appearing on "CBS This Morning" Tuesday, Republican presidential candidate Sen. Ted Cruz, of Texas, was asked by CBS News correspondent Vladimir Duthiers if he would "take" away the health care of 16 millions of Americans insured under Obamacare if elected president. He seemingly came prepared to field such a question.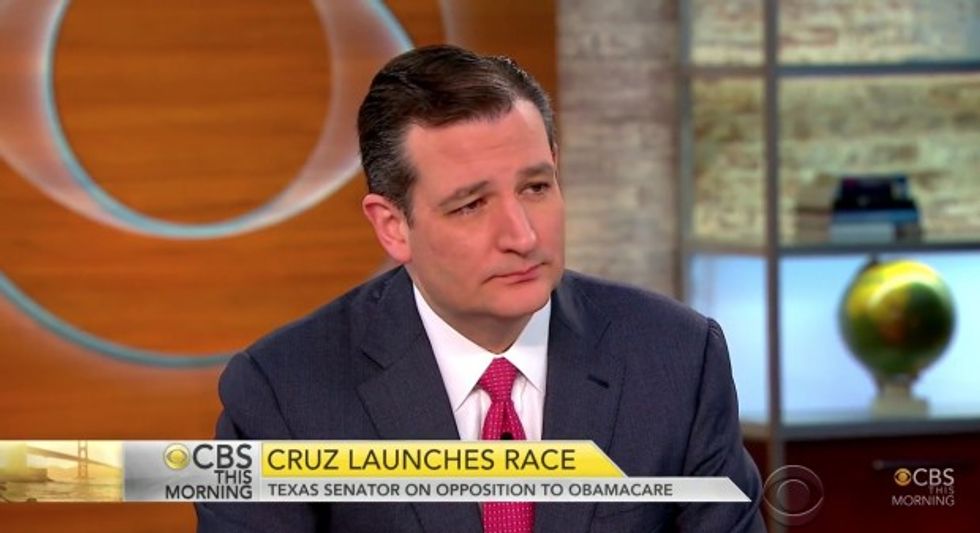 ("CBS This Morning)
"Well, you know, those numbers don't tell the whole picture," Cruz responded. "For one thing, the bulk of those numbers are coming from expanded Medicaid. And Medicaid is a program where a lot of people who are on Medicaid are not getting health care. Medicaid is a system that is already overburdened and more and more people are just getting waiting lists and not actually getting health care."
He continued: "Beyond that, remember six million people had their health insurance canceled because of Obamacare. You are not doing someone a favor is you cancel the health insurance they like, and then force them to buy new health insurance at higher premiums that covers less."
The Texas senator also said Obamacare is the "single largest job killer" in the United States.
Watch the segment via CBS below:
---