A senior Department of Veterans Affairs official who oversaw construction projects that have seen significant cost overruns and delays has resigned, according to the VA.
But he wasn't fired, a fact that was already drawing criticism from a Congress that believes the VA continues to be way too soft on corrupt and inept officials.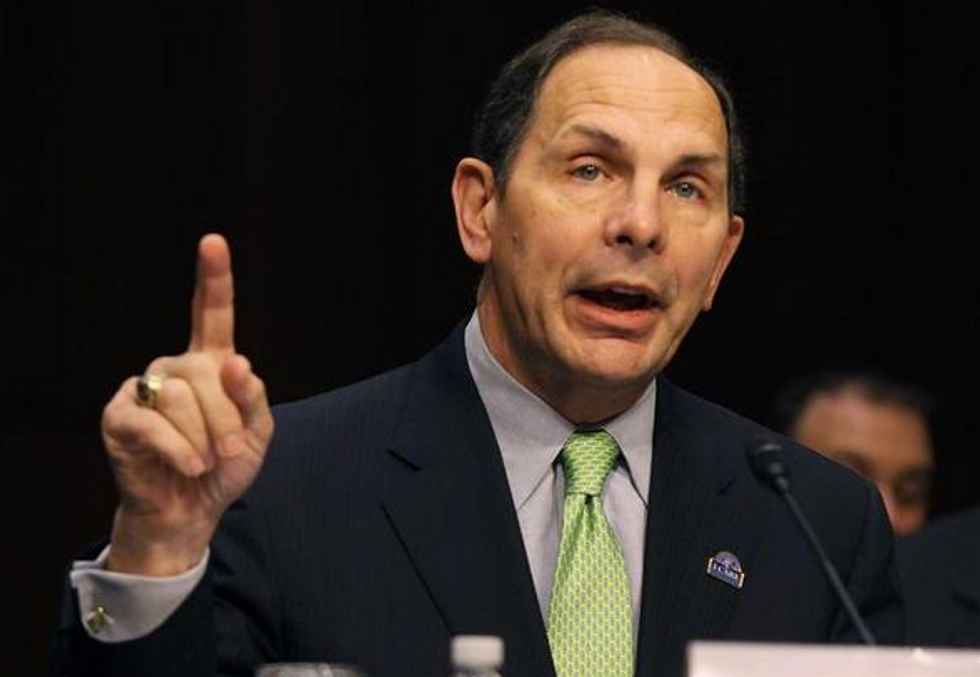 VA Secretary Robert McDonald no longer has to deal with Glenn Haggstrom, who watched as the VA racked up hundreds of millions of dollars in cost overruns for various construction projects. Image: AP Photo/Lauren Victoria Burke
Glenn Haggstrom of the VA's Office of Acquisition, Logistics, and Construction has faced criticism for months over his failure to bring projects in on time and at anything close to their initial cost estimate.
Most recently, he was accused of bungling a $328 million VA hospital project in Colorado that will now cost at least $1.73 billion. Earlier this month, House Veterans Affairs Committee Chairman Jeff Miller (R-Fla.) called on Haggstrom to be fired, and on Wednesday, the VA said he was gone.
"The situation regarding the construction of a replacement VA medical center in Aurora, Colorado is unacceptable to Veterans, taxpayers and Department leadership," the VA said in a statement.
"Effective today, Glenn Haggstrom, principal executive director of the Office of Acquisition, Logistics, and Construction (OALC), is no longer an employee of VA," it added. "Haggstrom retired from federal service in the midst of an investigation, initiated by VA, into delays and cost overruns associated with the design and construction of the medical center in Aurora."
Haggstrom had already been relieved of any decision-making authority in the department as a result of the problems in Colorado.
With Haggstrom out, the office he used to lead will report to Deputy DHS Secretary Sloan Gibson, the VA said.
The release of Haggstrom continues the slow rate of progress the VA has made in getting rid of senior officials for mismanagement, and continues to reveal the VA's preference for letting these officials resign instead of firing them.
"Though Glenn Haggstrom may have tried to do a good job at VA, he certainly did not succeed," Miller said Wednesday. "What's most disappointing about this situation, however, is that Haggstrom left on his own terms – with a lifetime pension – even though any reasonable person would conclude that he should have been fired years ago."
"VA's entire construction program is a disaster and has been for years," Miller added. "Nearly every major VA hospital construction project is behind schedule and hundreds of millions over budget."
"If there is anything in current law preventing VA from swiftly holding its employees accountable, the department should say so, because the parade of VA executives who retire or resign in lieu of any form of accountability is nothing short of insulting to veterans and taxpayers," he said.