"Was it worth it?"
That's the first question Fox News host Megyn Kelly posed to State Department spokeswoman Jen Psaki on Wednesday night, several hours after the U.S. Army announced they were charging Bowe Bergdahl with desertion and misbehavior before the enemy. The Obama administration released five Taliban commanders to free the former Army sergeant from captivity last year.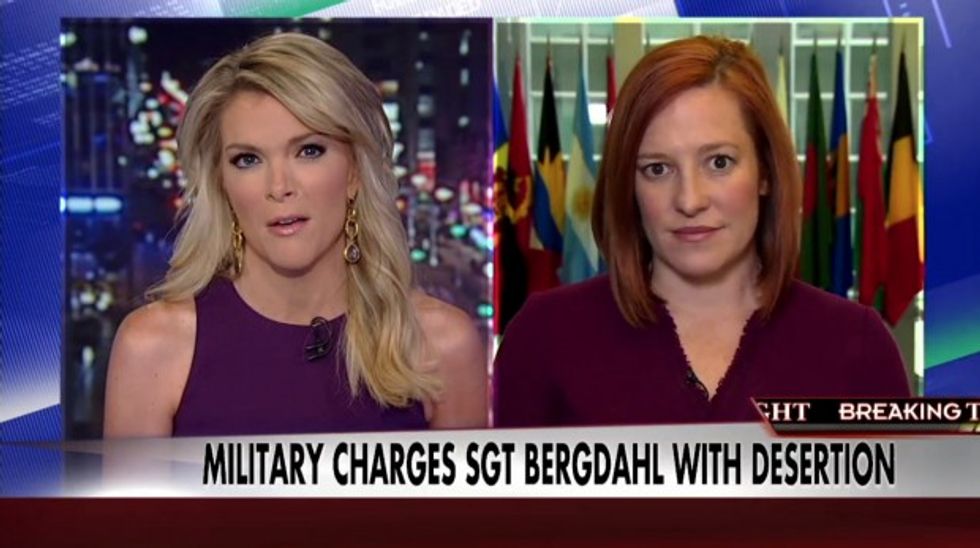 (Fox News)
"Was it worth it? Absolutely," Psaki replied. "We have a commitment to our men and women serving in our military, defending our national security every day that we're going to do everything to bring them home if we can, and that's what we did in this case."
The spokeswoman emphasized that the president of the United States is routinely tasked with making the "tough decisions," like the call to carry out the Bergdahl swap.
"It was a tough decision, but was it the right decision? I mean, that's the question," Kelly shot back. "Three of these five Taliban guys are trying to return to terror now, and they didn't need to be released from Gitmo."
"This is a commitment that we have made, and have long made, we've made for decades," Psaki responded, adding that the U.S. has the ability to track the released terrorists.
When Kelly noted that the supervision of the five Taliban commanders is supposed to end in two months, Psaki said, "Obviously, these plans and agreements are designed and they'll be discussed and we will do everything we can to ensure that the proper precautions and requirements are in place with the government of Qatar."
Kelly eventually pressed Psaki on Bergdahl's actual military service in light of the desertion charge.
"Did the president know, when he struck this deal, did he know Bowe Bergdahl was a potential deserter?" she asked. "Why did he have the big ceremony in the Rose Garden? Why was there so much pomp and circumstance trying to celebrate this man when at the minimum he was a very controversial figure?"
Though Kelly would ask several times whether she agrees with National Security Advisor Susan Rice's past assertion that Bergdahl "served with honor and distinction," Psaki refused to answer.
"If we're not pre-judging today, we certainly weren't pre-judging almost a year ago when this decision was made and Sgt. Bergdahl was brought home," she said.
---