Last Friday, during a legislative session discussing gun bills, Nebraska's longest-serving state senator made a series of controversial statements about the police, ISIS and how he would shoot a cop if he had a weapon.
Senator Ernie Chambers represents the 11th district in Nebraska's unicameral state legislature. He initially served in  that same seat from 1971 to 2009 when term limits forced him to retire. However, the liberal Chambers was allowed to run again in 2012 and won re-election with ease.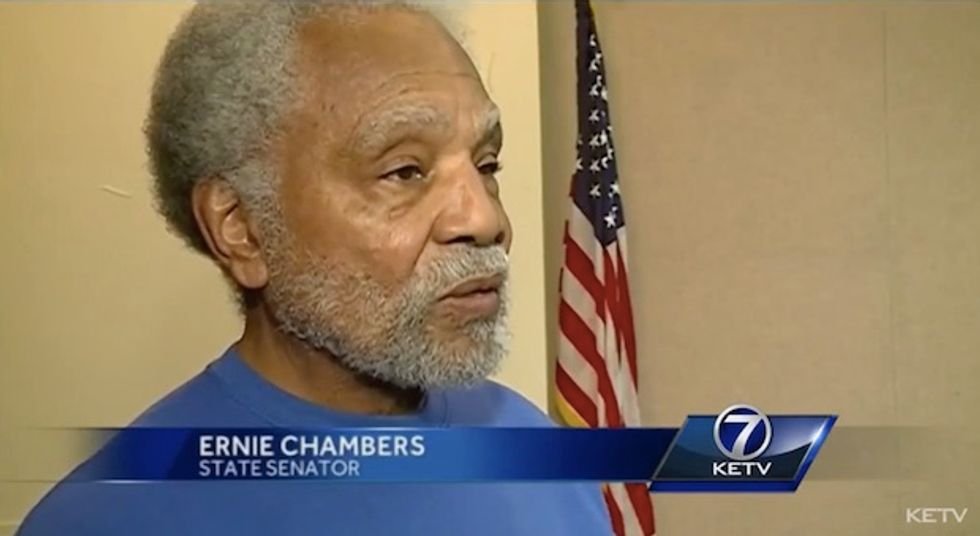 Image source: YouTube
Chambers has a history of making inflammatory statements, and even filed a lawsuit against God back in 2007, which was dismissed.
Just over a month ago, during a filibuster of an education bill, Chambers delivered a racially inflammatory rant, saying white people "polluted the blood that is in my veins to this day."
He was at it again last Friday.
During a debate over laws about guns and replica firearms, Chambers said police terrorize people in his district on a daily basis, pounding his fist on the committee hearing table and saying, "Nobody from ISIS ever terrorized us as a people as the police do daily."
Listen to the first clip, also played on KFOR Radio:
Then he ratcheted it up.
"If I was going to carry a weapon, it wouldn't be against you, it wouldn't be against these people who come here that I might have a dispute with." Adding, "Mine would be for the police."
Chambers continued, "And if I carried a gun I'd want to shoot him first and then ask questions later, like they say the cop ought to do":
After local and national news outlets picked up the story, on Tuesday, Chambers attempted to take the steam out of his comments. The Washington Examiner quoted Chambers saying, "I don't carry a weapon. I've never carried a weapon." He also stressed that he was, "not advocating that anybody, especially anybody in my community, go out and shoot people."
Watch the local report on the replica firearm hearing here:
(H/T: Watchdog.org)
__
Follow Mike Opelka (@Stuntbrain) on Twitter.