Elias Marzeleno and his girlfriend were driving past a McDonald's in Glendale, Arizona, when they noticed the flag outside the restaurant was flying upside-down.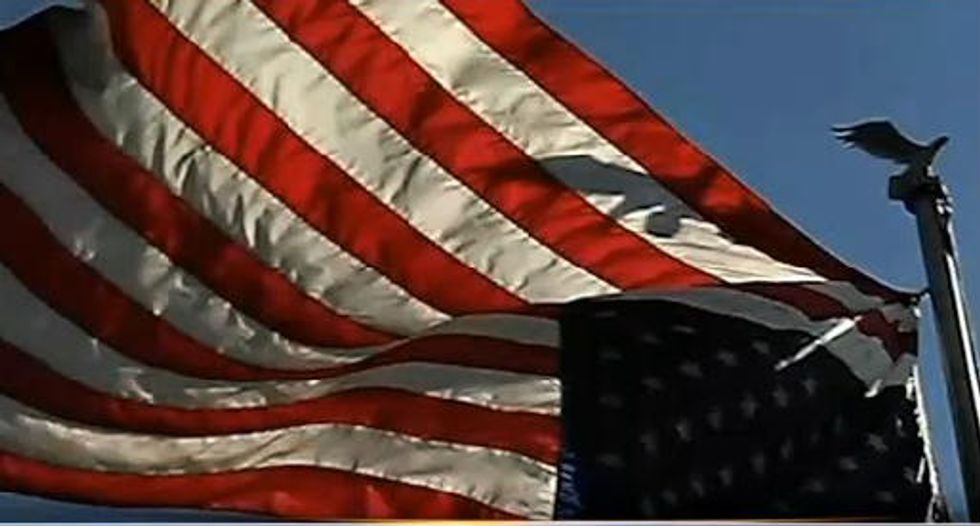 Image source: KSAZ-TV
"I actually thought it was plain disrespect that someone would raise our own nation's flag upside down," Marzeleno told KSAZ-TV.
Marzeleno, who is a Marine reservist, said he made a U-turn, then — because an upside-down flag is a sign of distress — took a look around the area to make sure nothing was wrong. When he didn't notice anything out of the ordinary, Marzeleno didn't go inside the restaurant, but decided to take action himself.
"I actually went to try to lower the flag, but it was knotted in such a way you couldn't lower it, so I went to the car, I got my knife and I cut the rope," Marzeleno said.
Franchise owner Steve Lanini, who served in the Marines himself, said the flag was raised upside-down by accident and that the restaurant meant no disrespect by it.
"If you're familiar with how you fold a flag, sometimes if you get the hooks on wrong, you pull the wrong way and it goes upside down. It's happened I'm sure over the years and this one wasn't caught," Lanini said.
The owner said he doesn't know who raised the flag and won't be disciplining anyone because of it, but he did post an apology letter to his customers on the door.
"We would like to sincerely apologize to our customers and neighbors for the incident that occurred on Saturday, March 21, 2015. It was truly an accidental oversight that resulted in our United States flag hanging upside down," the letter said. "As soon as the issue was brought to our attention we had every intention to fix the problem."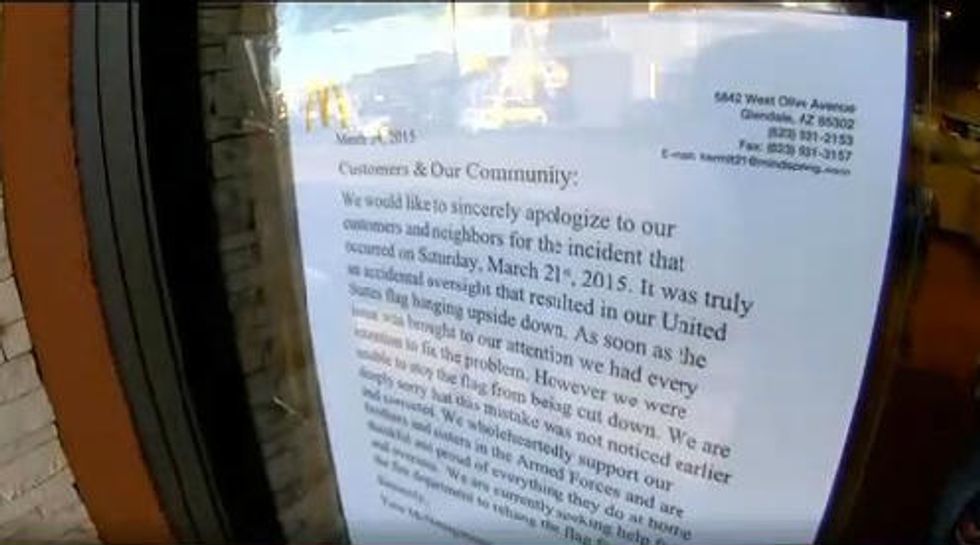 Image source: KSAZ-TV
Lanini said he understands why Marzeleno reacted the way he did, but said there could have been a more "logical" way to handle it rather than cutting the rope.
"Being a Marine myself, and going through the Vietnam War era, we're gung-ho but we need to curtail our feelings sometimes and take more logical steps than overreact to it," Lanini said.
But Marzeleno doesn't have any regret.
"All I want people to know is to have basic protocol to raise our flag, and give our own flag respect," he said.
(H/T: KSAZ-TV)
–
Follow Jon Street (@JonStreet) on Twitter