"Star Trek" actor George Takei isn't taking too kindly to Indiana Gov. Mike Pence's decision to sign into law a controversial bill aimed at upholding the religious freedom of business owners in the state.
Takei, who is openly gay, took to his Facebook page on Thursday to decry the measure, proclaiming that he is "outraged" that the Republican governor would support it.
"He has made it clear that LGBT couples, like Brad and me, are now unwelcome in his state," Takei said. "The notion that this bill was not driven by animus against our community is belied by the record and frankly insulting."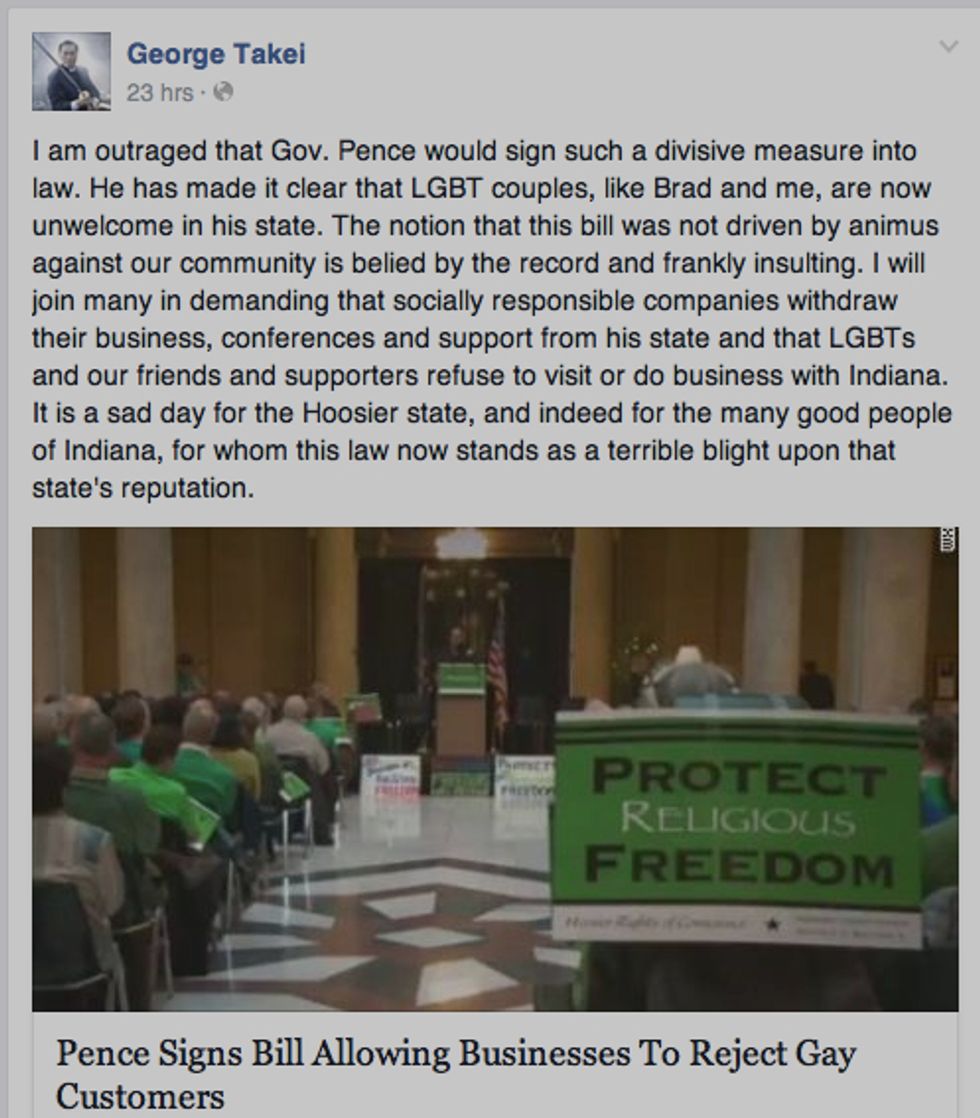 Facebook/George Takei
The actor went on demand that companies reconsider holding events and conducting official business in Indiana.
"I will join many in demanding that socially responsible companies withdraw their business, conferences and support from his state and that LGBTs and our friends and supporters refuse to visit or do business with Indiana," he said. "It is a sad day for the Hoosier state, and indeed for the many good people of Indiana, for whom this law now stands as a terrible blight upon that state's reputation."
As TheBlaze previously reported, Pence signed the Religious Freedom Restoration Act into law during a private ceremony on Thursday, claiming that the legislation provides an opportunity to support religious conscience for "every Hoosier of every faith."
"The Constitution of the United States and the Indiana Constitution both provide strong recognition of the freedom of religion but today, many people of faith feel their religious liberty is under attack by government action," Pence said in a statement. "This bill is not about discrimination, and if I thought it legalized discrimination in any way in Indiana, I would have vetoed it."
Those backing the law have said that it will protect wedding-related businesses that are Christian-owned from being forced by the government to offer services for same-sex weddings — a lightening-rod issue that has created controversy across the nation in recent years.
But some have joined Takei in voicing concern. In a letter to Pence sent Wednesday, leaders of the Christian Church (Disciples of Christ) warned that the legislation was causing them to reconsider plans to hold their 6,000-person General Assembly in Indianapolis in 2017.
Join me to #BoycottIndiana . Show Gov. #Pence we won't stand for bigotry in the name of religion.

— George Takei (@GeorgeTakei) March 27, 2015
And Adrian Swartout, the CEO of the 50,000-person Gen Con gamers' convention, said the legislation could affect the group's decision to hold the major event in Indianapolis past 2020. He said it would have "a direct negative impact on the state's economy."
Read the text of the controversial law for yourself here.
The Associated Press contributed to this report.