German police seized items Thursday night from the apartment of the Germanwings co-pilot who prosecutors said intentionally crashed a passenger jet into the French alps, killing all 150 individuals on board.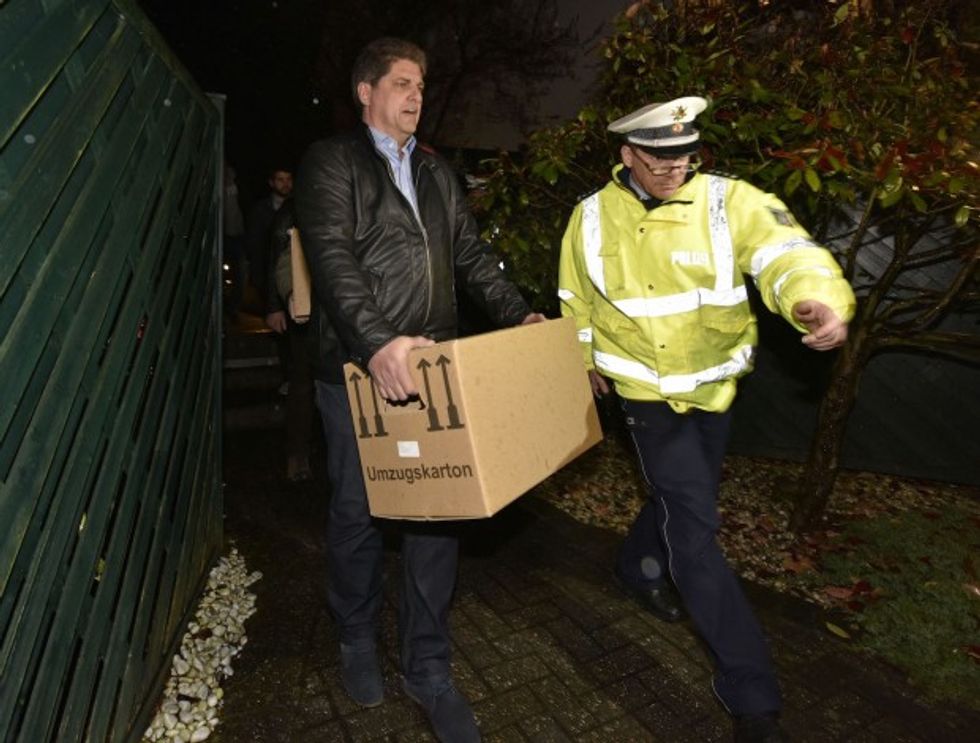 Investigators carry boxes from the apartment of Germanwings airliner jet co-pilot Andreas Lubitz, in Duesseldorf, Germany, Thursday March 26, 2015. (AP Photo/Martin Meissner)
One item in particular might offer an important clue as to why pilot Andreas Lubitz deliberately crashed the plane, authorities reportedly said.
"We have found something which will now be taken for tests. We cannot say what it is at the moment but it may be a very significant clue to what has happened," a police spokesperson said, according to Mail Online.
[sharequote align="center"]"We hope it may give us some explanations."[/sharequote]
"We hope it may give us some explanations," the spokesperson reportedly added.
While police did not reveal what the item was, authorities did say it was not a suicide note.
Boxes and a computer were also taken from Lubitz's apartment.
The items were seized as speculation swirls on what prompted the young pilot to destroy the Airbus A320. Reports online suggested Lubitz was suffering from depression after a breakup with a lover, but the theory has not been confirmed by police.
Further, those who knew the co-pilot said he appeared to be happy.
Members of his hometown flight club in Montabaur, where he renewed his glider license last fall, told the Associated Press that the 27-year-old Lubitz appeared to be happy with the job he had at the airline, a low-cost carrier in the Lufthansa Group.
After starting as a co-pilot with Germanwings in September 2013, Lubitz was upbeat when he returned to the LSC Westerwald e.V glider club to update his glider pilots' license with about 20 takeoffs.
"He was happy he had the job with Germanwings and he was doing well," said longtime club member Peter Ruecker, who watched Lubitz learn to fly. "He was very happy. He gave off a good feeling."
In Montabaur, neighbor Johannes Rossmann said Lubitz appeared to be in good health and was a regular jogger. He described the pilot as calm and low-key.
"I do not believe he killed himself and claimed other people's lives," the 22-year-old Rossmann said. "I can't believe it until it is 100 percent confirmed."
After completing his training, Lubitz spent an 11-month waiting period working as a flight attendant before becoming a co-pilot on the Germanwings A320 fleet. Spohr said such a waiting period is not unusual at Lufthansa.
Lubitz had logged 630 hours' flight time by the day of the crash, the airline said.
The Associated Press contributed to this report.
—
Follow Oliver Darcy (@oliverdarcy) on Twitter