Hillary Clinton permanently deleted all emails from her personal server, the chairman of the House Select Committee on Benghazi said he was informed Friday.
"We learned today, from her attorney, Secretary Clinton unilaterally decided to wipe her server clean and permanently delete all emails from her personal server," Rep. Trey Gowdy (R-S.C.) said in a statement.
House Judiciary Committee member Rep. Trey Gowdy, R-S.C., gives his opening remarks on Capitol Hill in Washington, Tuesday, Feb. 5, 2013, during the committee's hearing on America's Immigration System: Opportunities for Legal Immigration and Enforcement of Laws against Illegal Immigration. (Image source: AP)
The conservative lawmaker said it was not exactly clear when Clinton deleted her emails, but said it likely happened after Oct. 28, 2014 when the State Department asked her to return public records. Clinton, a likely contender for the White House in 2016, has drawn intense scrutiny after it was revealed she conducted all business as secretary of state with a personal email.
"Not only was the Secretary the sole arbiter of what was a public record, she also summarily decided to delete all emails from her server ensuring no one could check behind her analysis in the public interest," Gowdy said.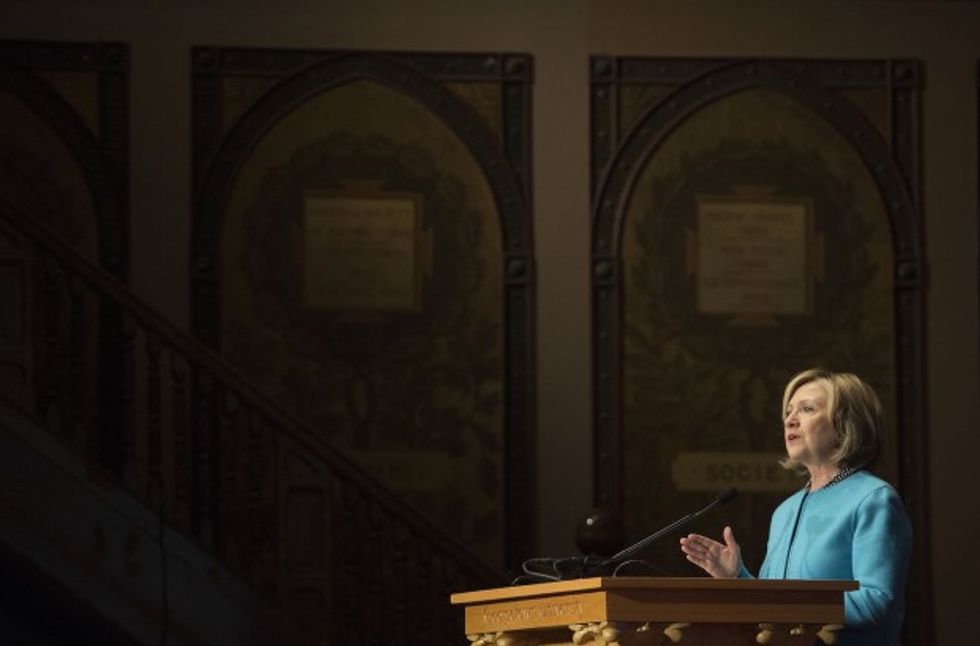 Former Secretary of State Hillary Clinton discusses 'Smart Power: Security Through Inclusive Leadership' at Georgetown University in Washington, D.C., December 3, 2014. (AFP PHOTO / Jim WATSON)
The news comes after the Benghazi committee subpoenaed Clinton's emails for an independent review executed by a neutral third party.
"After seeking and receiving a two week extension from the Committee, Secretary Clinton failed to provide a single new document to the subpoena issued by the Committee and refused to provide her private server to the Inspector General for the State Department or any other independent arbiter for analysis," Gowdy said.
Gowdy's office did not immediately reply to an inquiry from TheBlaze asking about the next steps he would take following the revelation.
Rep. Elijah Cummings (D-Md.), a ranking member on the committee, dismissed Gowdy's reaction as a political move.
"This confirms what we all knew—that Secretary Clinton already produced her official records to the State Department, that she did not keep her personal emails, and that the Select Committee has already obtained her emails relating to the attacks in Benghazi," the Democratic lawmaker said in a statement. "It is time for the Committee to stop this political charade and instead make these documents public and schedule Secretary Clinton's public testimony now."
—
Follow Oliver Darcy (@oliverdarcy) on Twitter