INDIANAPOLIS (TheBlaze/AP) — George Stephanopoulos didn't waste any time when Indiana Gov. Mike Pence appeared on his show Sunday morning.
"Was it a mistake to sign this law?" Stephanopoulos asked before Pence could even finish saying hello.
The law in question: Indiana's Religious Freedom Restoration Act.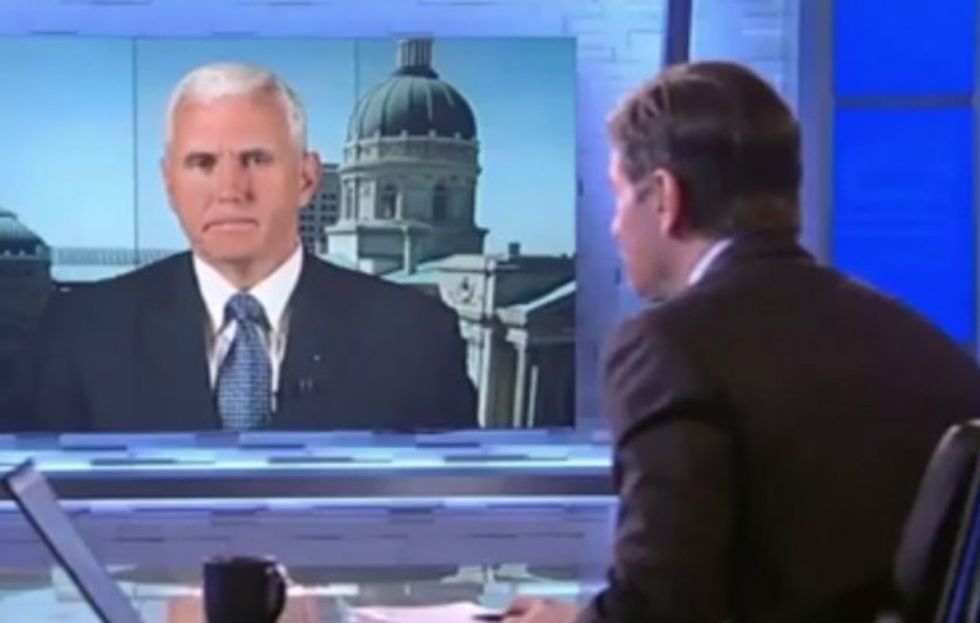 Indiana Gov. Mike Pence defends the Religious Freedom Restoration Act on "This Week With George Stephanopoulos" Sunday. (Image via ABC)
On ABC's "This Week with George Stephanopoulos," Pence defended the new state law that's garnered widespread criticism over concerns it could foster discrimination and said Sunday it wasn't a mistake to have enacted it.
Pence discussed the measure he signed last week prohibiting state laws that "substantially burden" a person's ability to follow his or her religious beliefs. The definition of "person" includes religious institutions, businesses and associations.
Since the Republican signed the bill into law Thursday, Indiana has been widely criticized by businesses and organizations around the nation, as well as on social media with the hashtag #boycottindiana. Already, consumer review service Angie's List has said it will suspend a planned expansion in Indianapolis because of the new law.
Pence, a Republican, did not answer directly when asked six times whether under the law it would be legal for a merchant to refuse to serve gay customers.
"This is not about discrimination, this is about empowering people to confront government overreach," he said. Asked again, he said, "Look, the issue here is still is tolerance a two-way street or not."
Pence said Sunday that if lawmakers send him a bill to clarify the law's intent, he'll look at it. He also told the Indianapolis Star a day earlier that he was in discussions with legislative leaders over the weekend and expects a clarification bill to be introduced in the coming week.
But Pence was adamant Sunday that the measure, slated to take effect in July, will stick. "We're not going to change the law," Pence said.
Watch Pence's interview below:
Pence and other supporters of the law contend discrimination claims are overblown and insist it will keep the government from compelling people to provide services they find objectionable on religious grounds. They also maintain that courts haven't allowed discrimination under similar laws covering the federal government and 19 other states.
But state Rep. Ed DeLaney, an Indianapolis Democrat, said it goes further than those and opens the door to discrimination.
"This law does not openly allow discrimination, no, but what it does is create a road map, a path to discrimination," he told a large, boisterous crowd that gathered outside of the Statehouse on Saturday to rally against the measure. "Indiana's version of this law is not the same as that in other states. It adds all kinds of new stuff and it moves us further down the road to discrimination."
Pence addressed the critics on Sunday, saying: "This avalanche of intolerance that's been poured on our state is just outrageous." Asked if he would be willing to add sexual orientation to the list of characteristics against which discrimination is illegal, he said, "I will not push for that. That's not on my agenda, and that's not been an objective of the people of the state of Indiana."
Saturday's crowd, for which police didn't have an exact estimate, chanted "Pence must go!" several times and many people held signs like "I'm pretty sure God doesn't hate anyone" and "No hate in our state."
U.S. Sen. Joe Donnelly, a Democrat, released a video statement on his Facebook page Saturday, saying: "We'll work together to reverse SB101 and we'll stand together to make sure that here in Indiana, we welcome everyone, every day."
Indianapolis Mayor Greg Ballard, a Republican who opposed the law, has said he and other city officials will talk with businesses and convention planners to counter the uproar.
Angie's List had sought an $18.5 million incentive package from Indianapolis' City-County Council to add 1,000 jobs over five years. But founder and CEO Bill Oseterle said in a statement Saturday that the expansion was on hold "until we fully understand the implications of the freedom restoration act on our employees."
The Indianapolis-based NCAA has expressed concerns about the law and has suggested it could move future events elsewhere; the men's Final Four will be held in the city next weekend.
___
Associated Press writers Tom Davies and Rick Callahan contributed to this report.