They said they smelled marijuana.
He said that wasn't possible and refused to open his door.
So they opened it for him.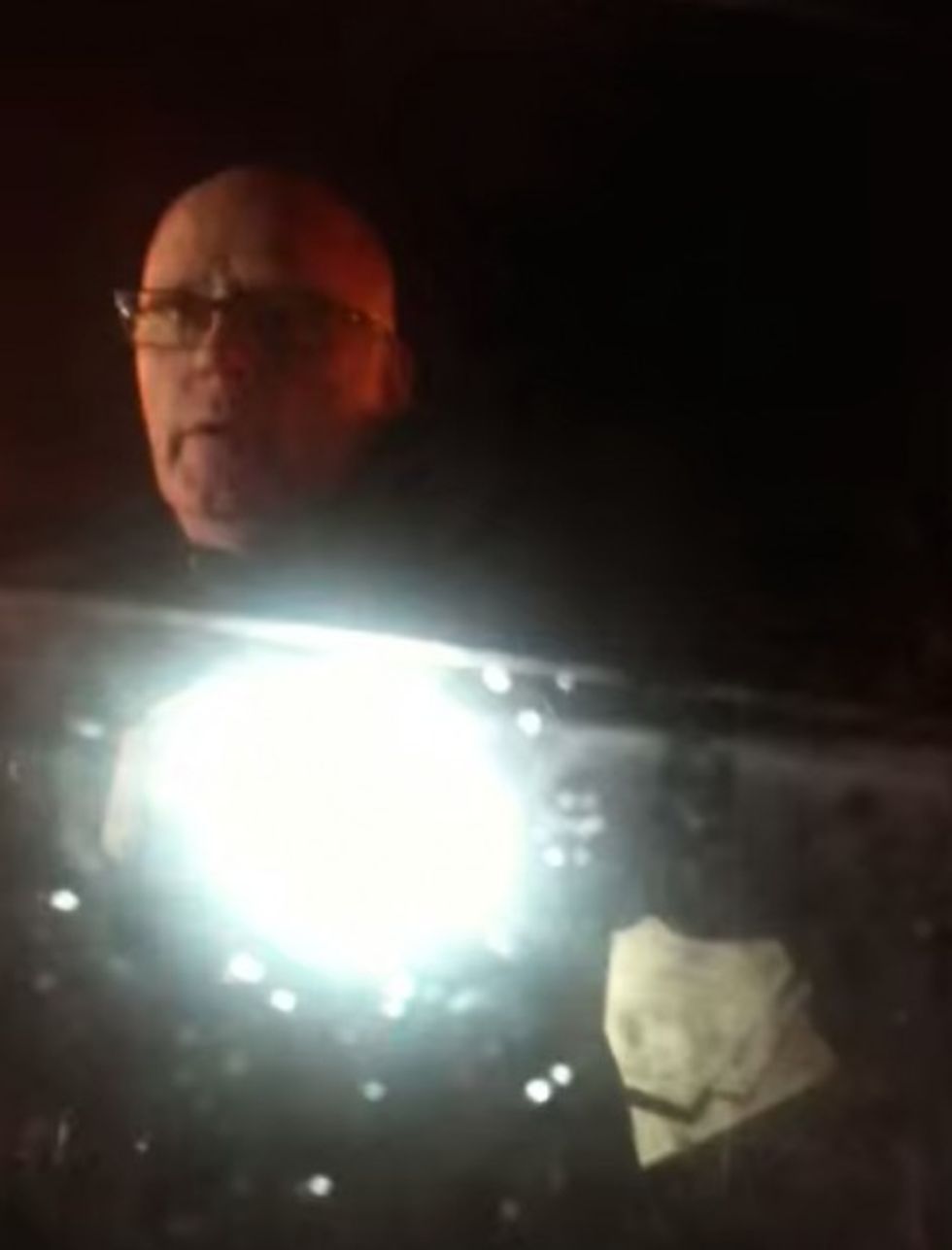 Image via YouTube
A video, posted to YouTube by a "Boddhi Sattva" (which is likely a pseudonym, given its similarity to the Buddhist term "boddhisattva") on Thursday, shows the beginning of a combative encounter between a driver and Vancouver police.
"Hit the brakes you moron," the cop yells as he tries to open the car door.
The driver claims the police are blinding him with their flashlights and demands to know why he's being pulled over — all while refusing to lower his window more than a few inches.
"Open the door, I'm not playing this game, your window's gonna go in," the cop threatens, before telling the driver he smells marijuana coming from the car.
"You do not smell marijuana in my vehicle," the driver protests, but a second cop confirms the odor.
"I'm gonna break the window," the first officer says as the second officer asks, "Anything we can say or do to get you to open the window?"
Then the cops bust the window and drag the driver out — watch below (content warning: brief strong language):
So who was in the right?
Vancouver police told the CBC that the incident, which occurred back in November, resulted in the driver being hit with drug and obstruction of police charges — though they couldn't offer specifics since the case was still working its way through the court system.
Furthermore, while the driver in the video claimed the officers couldn't smell marijuana in his vehicle, in a later blog post he admitted the cops found marijuana in his car (though he claimed it was legally prescribed medical marijuana).
But British Columbian criminal lawyer Paul Doroshenko told the CBC the driver in the video isn't at fault for the violent way things ended, saying:
You can't blame this individual for it. He's being polite and co-operative. You can blame the police for their attitude. There is no justification for this type of behavior. Ultimately what they do is, in my view, an unlawful arrest, smashing his window, destroying his property and it looks like a violent arrest.
In the YouTube description of the video, "Boddhi Sattva" said the incident left him "emotionally traumatize[ed]" and claimed police determined he was not impaired or under the influence of drugs while driving.
(H/T: Daily Mail)
—
Follow Zach Noble (@thezachnoble) on Twitter