UPDATE (2:15 p.m.): On Monday afternoon, National Security Administration communications director Jonathan Freed sent an emailed statement on the shooting that rocked Fort Meade, Maryland, confirming that one suspect had died and one suspect had been injured while an NSA police officer had also been injured.
Freed wrote:
Shortly before 9:00 a.m. today, a vehicle containing two individuals attempted an unauthorized entry at a National Security Agency gate. The driver failed to obey an NSA Police officer's routine instructions for safely exiting the secure campus.  The vehicle failed to stop and barriers were deployed.

The vehicle accelerated toward an NSA Police vehicle blocking the road.  NSA Police fired at the vehicle when it refused to stop.  The unauthorized vehicle crashed into the NSA Police vehicle.

One of the unauthorized vehicle's occupants died on the scene.  The cause of death has not been determined.  The other occupant was injured and taken to a local hospital.

One NSA Police officer was injured and taken to a local hospital.
Freed also noted that the incident had been contained to the perimeter of the NSA's Fort Meade campus and that the incident was still under investigation.
He did not address widespread reports that the two men who tried to enter the base were armed, carrying drugs and dressed in drag.
—
A shooting rocked the National Security Agency Monday morning.
The incident occurred at the military complex in Fort Meade, Maryland, just outside the NSA entrance gate, when a vehicle attempted to ram the NSA entrance gate around 9:30 a.m., WTTG-TV reported.
"The shooting scene is contained and we do not believe it is related to terrorism," said Amy J. Thoreson, a spokeswoman for the FBI, in a statement around 11:30 a.m.
Police said one person was dead on the scene and either one or two people were injured, according to initial reports.
NBC News reported that the incident was sparked when two men dressed as women in a stolen vehicle attempted to force their way onto the military installation but were stopped by a guard. NBC also reported that at least one gun and drugs were recovered from the stolen vehicle, a Ford Escape.
Contacted by TheBlaze, a Fort Meade spokeswoman could not confirm any information surrounding the incident.
WJZ-TV reported that the incident at the gate preceded a shooting.
In news footage live from the scene just after 10:30 a.m., two vehicles could be seen wrecked near the entrance gate to the NSA facility.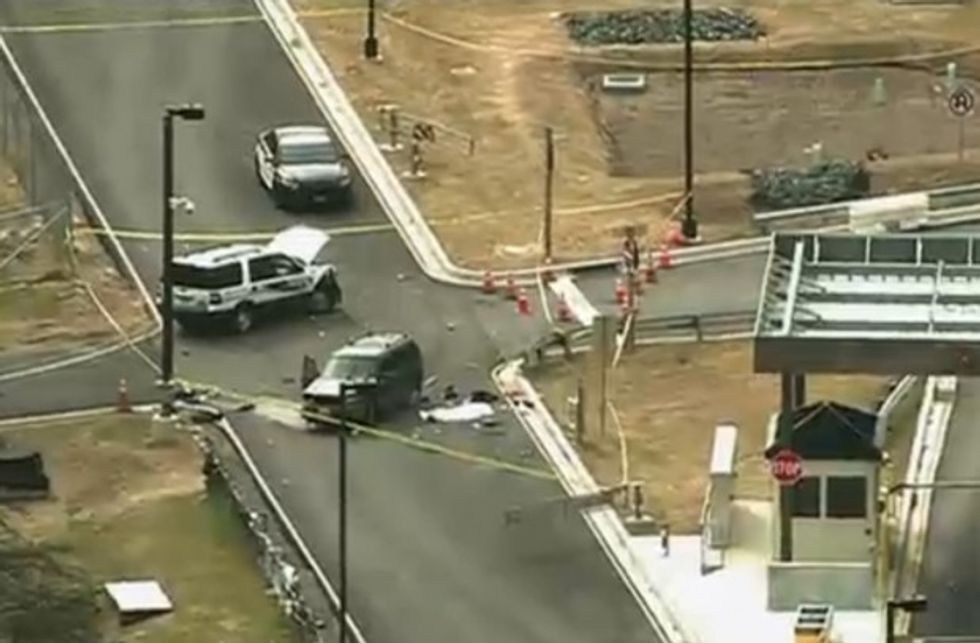 Image via WUSA-TV
White House Principal Deputy Press Secretary Eric Schultz said President Barack Obama had been briefed on the incident.
Fort Meade, a United States Army installation, is home to approximately 11,000 military personnel along with about 29,000 civilian employees.
This story has been updated.
—
Follow Zach Noble (@thezachnoble) on Twitter