Sen. Bob Menendez (D-N.J.) was indicted by a federal grand jury on Wednesday on 14 different charges, including allegedly abusing his power as a senator to do favors for a Florida businessman who paid for trips that Menendez took to the Dominican Republic.
"Government corruption – at any level of elected office – corrodes the public trust and weakens our democratic system," Assistant Attorney General Leslie Caldwell said. "It is the fundamental responsibility of the Department of Justice to hold public officials accountable by conducting thorough investigations and seeking an indictment when the facts and the law support it."
Menendez is accused of accepting trips from political donor Salomon Melgen, and then defending Melgen when he was accused of ripping off Medicare. The federal government has also accused Menendez of trying to win an infrastructure contract for Melgen.
"Specifically, the indictment alleges that, among other gifts, Menendez accepted flights on Melgen's private jet, a first-class commercial flight and a flight on a chartered jet; numerous vacations at Melgen's Caribbean villa in the Dominican Republic and at a hotel room in Paris; and $40,000 in contributions to his legal defense fund and over $750,000 in campaign contributions," the Justice Department said. "Menendez never disclosed any of the reportable gifts that he received from Melgen on his financial disclosure forms."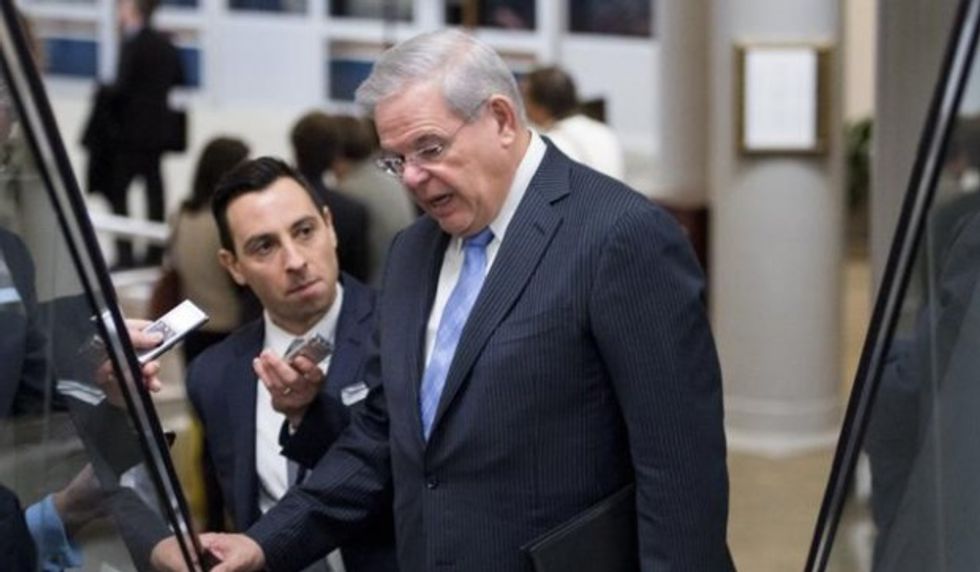 Bill Clark/CQ-Roll Call,Inc.
The criminal corruption charges, brought by the Obama administration's Justice Department, has raised questions about whether the administration is seeking to mute Menendez, who has been highly critical of Obama's effort to negotiate an Iran nuclear deal. Menendez, the top Democrat on the Foreign Affairs Committee, has also criticized Obama's effort to open a dialogue with Cuba.
The timing of the indictment has raised eyebrows in Washington because Menendez has warned the administration that he will support legislation requiring any Iran nuclear deal to be approved by Congress. His committee is expected to vote on that bill in just a few weeks, and the administration this week was still struggling to come up with an interim agreement.
The possibility of an indictment has already led to speculation that Menendez might have to step down from his leadership positions in the Senate. However, Menendez has maintained that he has not broken the law and will ultimately be cleared.
"I have always conducted myself appropriately and in accordance with the law," he said last month. "I am not going anywhere."
Menendez was expected to talk to reporters about the indictment at 7 p.m. eastern time from New Jersey.