Top Israeli officials reacted swiftly and negatively to Thursday's announcement of the tentative agreement reached between the U.S., Iran and other world powers over Iran's nuclear program.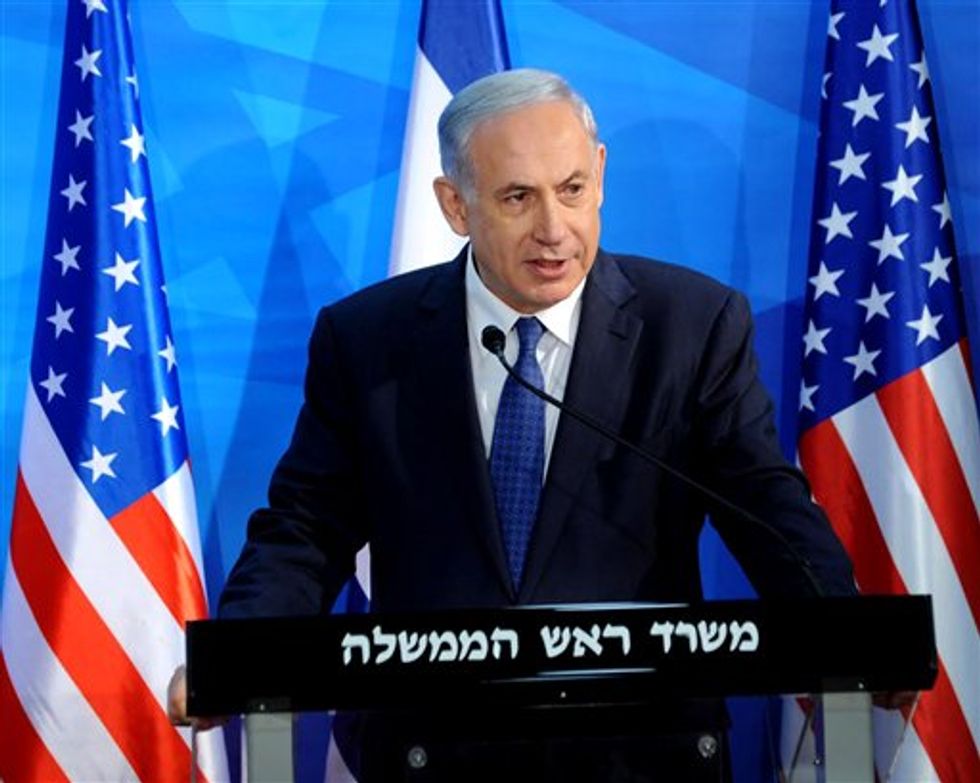 Israel's Prime Minister Benjamin Netanyahu, speaks during a press conference with Speaker of the United States House of Representatives John Boehner, at the prime minister's office in Jerusalem, Wednesday, April 1, 2015. (AP Photo/Debbie Hill, Pool)
Economy Minister Naftali Bennett said Iran was essentially getting an international stamp of approval for its secret nuclear activity and hinted Israel had not ruled out a military option to address the threat.
"The world's most radical Islamic terror regime received today an official kosher stamp for its illicit nuclear program," Bennett wrote on Facebook. "Today, it is important to stress: Deal or no deal, Israel will do what is needed to protect itself and its citizens."
The minister said Iran "cannot be trusted," because it has "violated consecutive U.N. resolutions."
"Today's deal paves the way for Iran to eventually obtain a nuclear weapon, to further destabilize the Middle East and to continue spreading terror across the globe," Bennett said.
Bennett also wrote: "'Peace in our time', 2015," likening the agreement to the historic capitulation of Prime Minister Neville Chamberlain to Adolf Hitler in the 1938 Munich Agreement.
Strategic Affairs Minister Yuval Steinitz of Israeli Prime Minister Benjamin Netanyahu's Likud party accused the negotiators of being "detached" from reality.
"The smiles in Lausanne are detached from wretched reality in which Iran refuses to make any concessions on the nuclear issue and continues to threaten Israel and all other countries in the Middle East," Steinitz said in a statement.
"We will continue with our efforts to explain and persuade the world in hopes of preventing a bad [final] agreement," Steinitz said, according to Reuters.
The negotiators "caved to Iran's dictates and the framework agreement will only lead to an Iranian nuclear bomb," an unnamed Israeli official told the Israeli newspaper Haaretz, calling the agreement an "historic mistake that would make the world more dangerous."
The Times of Israel quoted an unnamed official in Jerusalem who called the deal "a capitulation to Iranian dictates."
If the deal is finalized in the coming months, the official said, it would make the world "far more dangerous."
The agreement constitutes "international legitimization of Iran's nuclear program" whose "only purpose is to build nuclear weapons," the official told the Times of Israel.
Speaking shortly after the deal was announced, President Barack Obama said he had spoken to the Saudi king and would be speaking with Israeli Prime Minister Benjamin Netanyahu afterward.
Before the announcement, Netanyahu posted on Twitter that any deal "must significantly roll back Iran's nuclear capabilities and stop its terrorism and aggression." He attached a map showing the parts of the Middle East where Iran has engaged militarily, including Yemen, Syria, Lebanon and Iraq.