Department of Homeland Security Secretary Jeh Johnson has apologized to Rep. Jason Chaffetz (R-Utah) after the GOP lawmaker's personal information was leaked, possibly by Secret Service employees.
Lawmakers have also asked DHS to fully investigate who disclosed the private personnel information showing that Chaffetz was formerly turned down for a job as a Secret Service agent in 2003. He told the Daily Beast he was likely turned down because was too old, then in his mid-30s, but he harbors no ill-will toward the agency due to his rejection.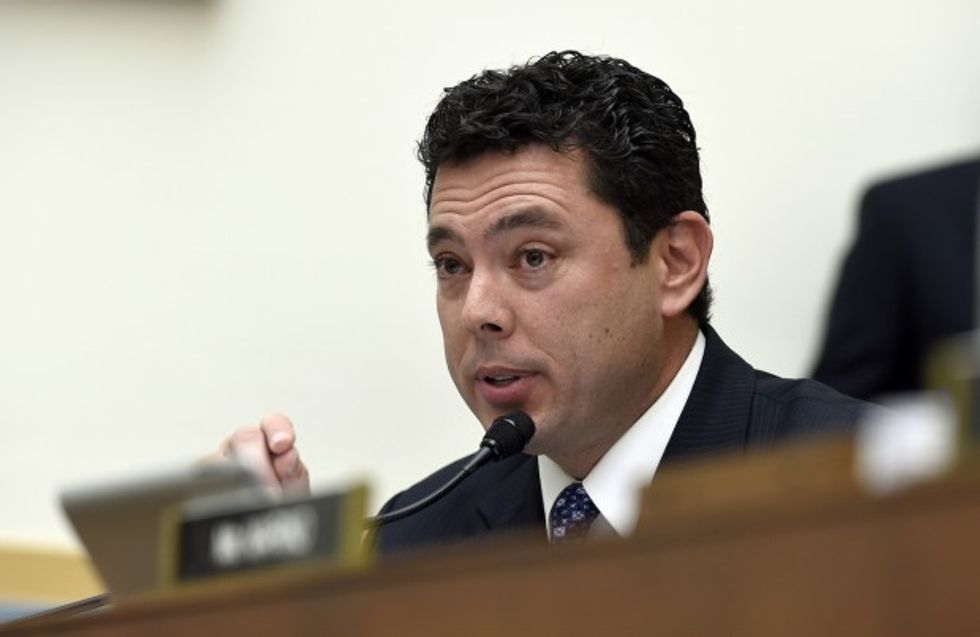 House Judiciary Committee member Rep. Jason Chaffetz, R-Utah questions acting Secret Service Director Joseph Clancy, on Capitol Hill in Washington, Wednesday, Nov. 19, 2014, during the committee's hearing on oversight of the Secret Service. (AP Photo/Susan Walsh)
The Secret Service has been at the center of a number of security blunders — and Chaffetz has remained one of their toughest critics.
Chaffetz said he found the release of the information "disconcerting to say the least."
"I won't be intimidated, but I'm sure that's what it's intended to do," he told the Washington Post.
More from the Post report:
The information about Chaffetz's rejection has been circulated at Secret Service headquarters and in field offices, starting within days of a contentious March 24 hearing in which Chaffetz grilled Clancy, according to five current and former government officials who have been provided the details about Chaffetz's background. These people requested anonymity to discuss internal Secret Service discussions.

One official said that the materials included a copy of a parody poster that pictured Chaffetz leading a hearing on the Secret Service from the dais, with the headline "Got BQA from the Service in 2003" at the top and a line at the bottom that read "Elected to Congress in 2009." In the Secret Service, "BQA" is an acronym meaning a "Better Qualified Applicant" was available.
Secret Service Director Joseph Clancy also reportedly called to apologize to Chaffetz on Thursday. Further, Rep. Elijah Cummings (D-Md.) told the Post that the "disturbing" allegations should be investigated.
"If that's true, I find it appalling," Cummings responded. "There is absolutely no room for this kind of activity in the Secret Service."
Prior to the leaking of Chaffetz's rejection, the Republican subpoenaed two Secret Service employees amid a House committee's investigation into the agency's security lapses.
---