In a case sure to spark debate over the role of the media during life-threatening terrorist sieges, six hostages who were held at a Paris kosher supermarket in January have filed a police complaint against French media for divulging their hiding place during a live report.
As the drama was unfolding Jan. 9, the French news channel BFMTV reported live that there was a woman hiding from jihadist gunman Amedy Coulibaly in the refrigerated area of the Hyper Cacher supermarket in the midst of France's days-long terror spree, which included the attack on the Charlie Hebdo offices.
"There is one person, a woman, who remained hidden from the beginning, when this man entered the shop," the BFMTV reporter said, according to the Jewish Telegraphic Agency. "She hid in the refrigerated area in the back of the building."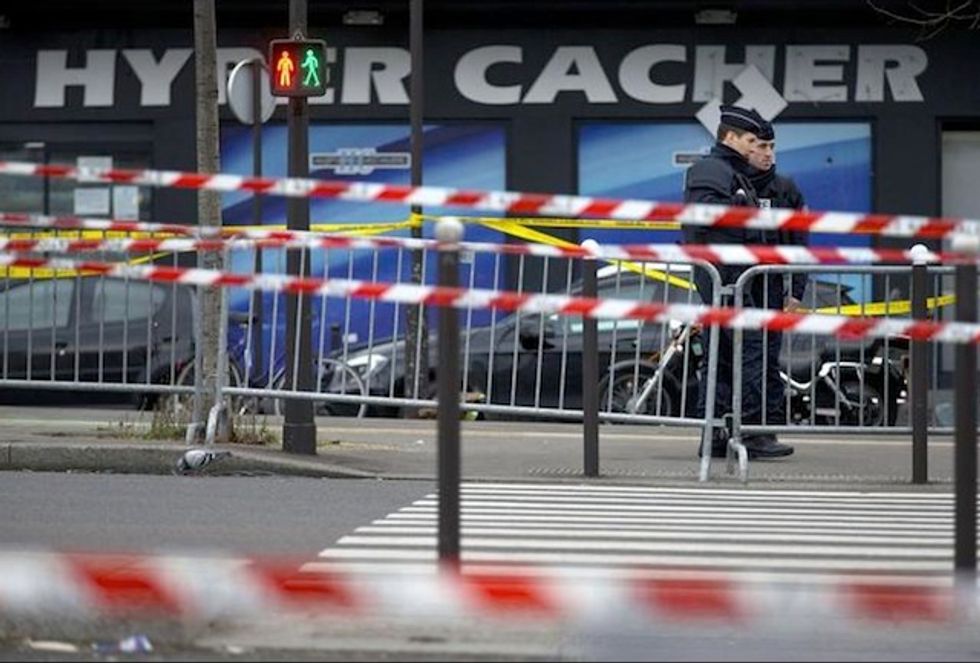 Two police officers stand guard a day after a terrorist attack on a kosher market in Paris, France. (AP Photo/Peter Dejong)
Though the reporter pointed to one hiding hostage, there were seven people, including a 3-year-old child and a 1-month-old baby, hiding in the store's cold room.
Patrick Klugman, the lawyer representing the survivors, said the news channel "lacked the most basic precautions" and endangered those who trying desperately to survive.
"The working methods of media in real time in this type of situation were tantamount to goading someone to commit a crime," Klugman told Agence France-Presse.
Coulibaly spoke by phone with BFMTV during the siege, saying flat-out that he was targeting Jews.
AFP reported that BFMTV issued an apology Friday, saying it "regretted that this information could have made the hostages or their relatives feel their lives were in danger."
It also said that after reporting the woman was hiding, the station's editor in chief decided that bit of information should never have been revealed and should not be repeated on air.
"We realized very quickly that a phrase by one of our journalists ... about a hostage in the cold room was inappropriate, and was an error," said Herve Beroud, the station's director of information.
AFP reported that the journalist learned of the hiding hostage from a police team positioned outside the grocery store. The station insisted that the reporter had been assured the hostage was no longer in danger.
Four Jewish hostages were killed in the siege.