The State Department could announce a recommendation as early as this week that Cuba should be removed from the U.S. list of state sponsors of terrorism, according to CNN.
A U.S. official told CNN that "our expectation" is that Cuba would be recommended for removal. That move has been expected since President Barack Obama announced a new effort to reestablish diplomatic and economic ties with the island nation.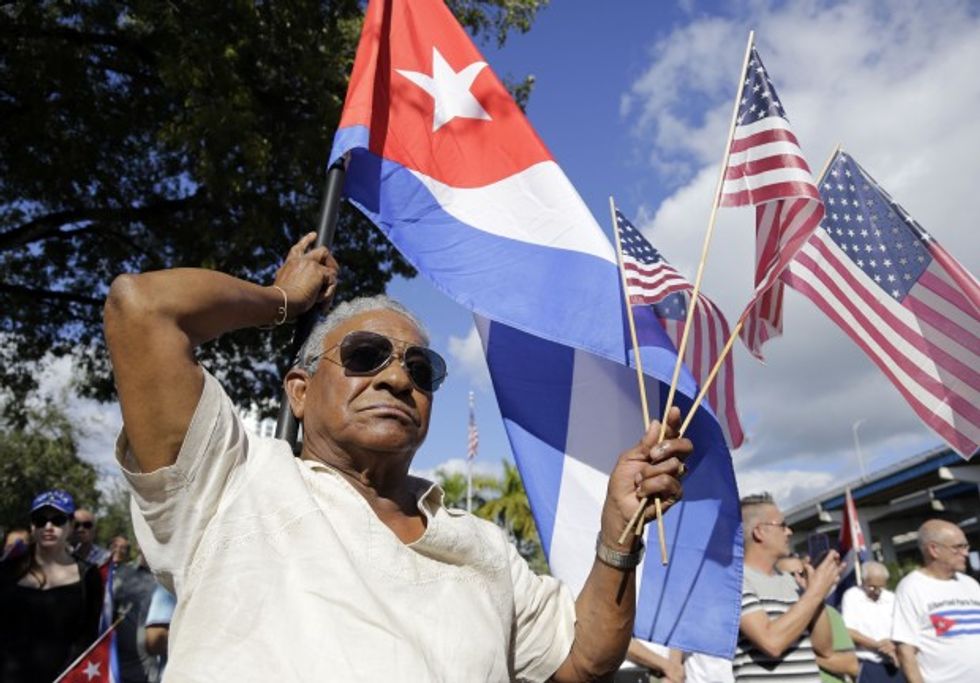 Protestors opposed President Obama's decision to normalize relations with Cuba last year, but the administration is about to move ahead with the next phase of its plan. Image: AP Photo/Lynne Sladky
But it's also a move that's expected to generate controversy in Congress, where Republicans and even some Democrats say it makes no sense given Cuba's past decisions to harbor members of terrorist groups and fugitives from U.S. justice.
The administration announced late last year that it would reassess Cuba's status on the list of state sponsors of terrorism, as part of its broad outreach effort. That effort also includes work toward reestablishing formal diplomatic relations between the U.S. and Cuba, eased travel restrictions that have already taken effect, and the beginning of discussions about how to end the embargo against Cuba.
The eased travel rules are something that the administration can do on its own. But Republicans have said they would fight Obama's plan as much as they can.
For example, some have talked about ensuring that the government can't spend any money for new diplomatic personnel in Cuba, and Senate Republicans could decide not to approve Obama's nominee to be the first ambassador to Cuba in decades, if it comes to that.
As of today, just four countries are on the list: Cuba, Iran, Sudan and Syria, and their presence on that list subjects them to sanctions. According to the State Department, those sanctions include restrictions on U.S. aid, a ban on defense exports, and limitations on the ability to sell dual-use goods that have both civilian and military applications.
Deciding whether Cuba belongs on the state sponsors of terrorism list is up to the State Department, but it's possible that some Republicans may propose a way to legislate around that decision.
A decision by State to take Cuba off the list would go to Obama, who is expected to support it. Obama would have to report to Congress that Cuba will be removed, which could give Congress a chance to vote on legislation aimed at blocking that decision.