Here's the conundrum: A motorcyclist has the green light but cars that previously had the right of way still block the intersection. Said motorcyclist, being more agile than his fellow motorists in cars waiting at the green light, decides to skirt in between the blocking vehicles that are still waiting for traffic ahead of them move forward. In doing so, he gets hit.
"Who do you think is at fault here?" That's the question a person on the social news site Reddit asked posting the YouTube video showing the incident.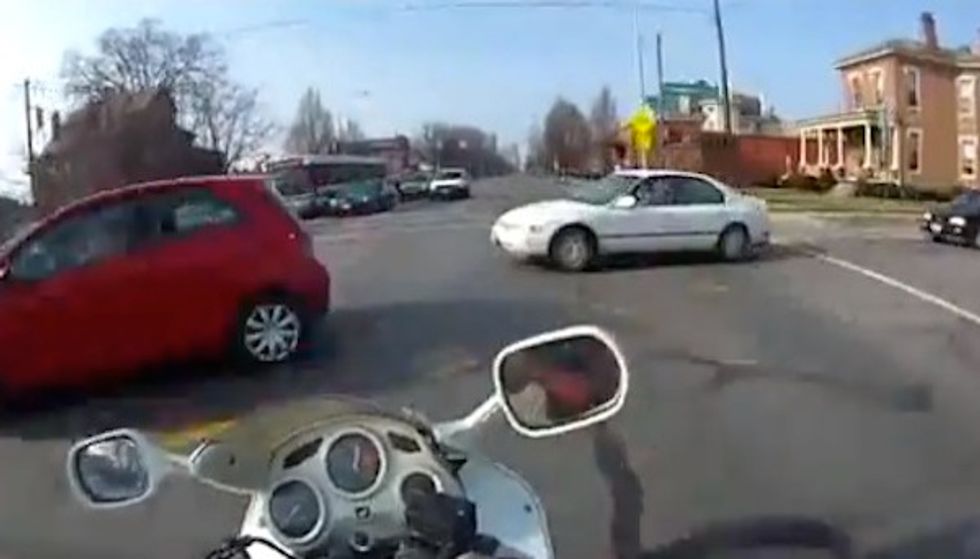 Image source: YouTube
First, watch the point-of-view video of the accident shot by the motorcyclist's helmet camera (Content warning: strong language):
The video was posted to YouTube on March 26 without details as to where exactly the incident happened or how it resolved. The motorcyclist doesn't seem to think he was in the wrong.
People on Reddit though have commented on who they think is to blame here.
"As a motorcyclist, the rider of this motorcycle is a moron," the Redditor going by j2thek47 wrote. "When things are sketchy, you should be more careful, not reckless. The guy shouldn't have been in the intersection, but it's not like he just ran a red light. He knew he was there. If it cleared up, he's going to go. So gunning it in front of someone is a dumb thing to do. Also, the guy brags about this being his second accident. He's clearly not a brainiac."
"I'd be willing to bet that both drivers' insurance companies would not fault the other driver and leave it at 50% to each," gohanrice added. "To the incoming downvotes: yes, the biker entered an intersection that wasn't clear, but so did the car; yes, he's an idiot, but so is the other driver; and yes, he accelerated into an empty space in the intersection, but so did the car (albeit at a much slower rate of acceleration)."
Jerod22, who claims to be an attorney, wrote that the "motorcycle is 100% at fault, legally."
"The motorcyclist is 100% at fault, because he could foresee the potential danger, and even describe it for the camera, and yet he intentionally chose to act recklessly in the face of that potential danger, out of obvious, filmed anger, knowing full well he is going to lose a battle between himself and a 1,500 pound immovable object should the predictable happen," he wrote. "He did this with abject reckless disregard for his fellow man."
The YouTube user who posted the video did not immediately respond to TheBlaze's request for more information, but a separate Reddit thread from March 24 with a description and thumbnail photo that appears to show the same accident with the video removed, leads us to believe that the original upload is gone.
Take our poll to weigh in on who is to blame in this situation: