A skier on Mount Mackenzie in British Colombia, Canada, knew what was starting to happen, but before he was pummeled by snow, he shouted a warning.
"Flow!" Zach Birnie yelled several times at the top of his lungs.
"More than anything I was making sure my friend knew what was happening," Birnie wrote on YouTube.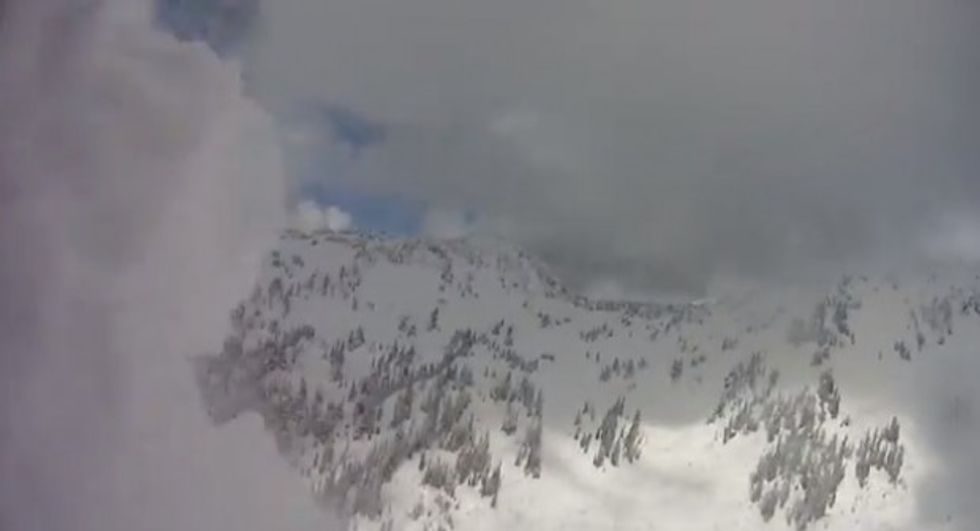 Image source: YouTube
Audio and visual of the avalanche that hit him in the Revelstoke Mountain Resort area late last month captured the force of the snow that sent him in a tumble down the mountain. Instead of burying him completely, like we saw happen to a snowmobiler recently, Birnie was thrown about.
Just watch (Content warning: strong language):
After he came to a stop and assessed his condition, Birnie heaved some heavy, rattled sighs of relief.
He said he only pulled his shoulder and lost a ski pole in the incident, calling it the "best, worst case scenario for sure."
And he's right. Avalanches are often deadly.
According to the Revelstoke Mountaineer, the avalanche on March 27 pushed him between 328 to 437 yards.
"It was a lot like being trapped in a rip curl underneath a wave is what it reminded me of," Birnie told the Mountaineer.