Geraldo Rivera doesn't believe officer Michael Slager will be found guilty of murder in the controversial shooting of an unarmed black man in the back that happened last Saturday in South Carolina.
Speaking on "Fox & Friends" Friday morning, Rivera believes that the facts paint a different story, especially because they don't show premeditation, which is one of the important factors for a murder charge.
"I'm extremely glad they released the dash cam video because it gives context to the event, however horrific, tragic and outrageous the shooting in the back is," he began. "It shows that it started as a righteous traffic stop. There was a light out. The driver was acting hanky, very edgy. He got out of the car, was told to get back in the car. Clearly the officer involved was checking to see whether there were outstanding warrants. The victim knew there was the outstanding warrant for him for child support. He bolts. The taser comes out.
"There is a struggle you don't see. But there is a reliable, I think, eyewitness account that there is a struggle after the taser. So up until that point the cop with his adrenaline pumping, now he's been in a physical tussle, now the perpetrator has reached for the taser allegedly, now it gives you the context of his blood boiling. He has done everything professional and now this civilian has dared to to physically have this altercation with the officer. Put that into the officer's head now: I think it saves him from the murder rap."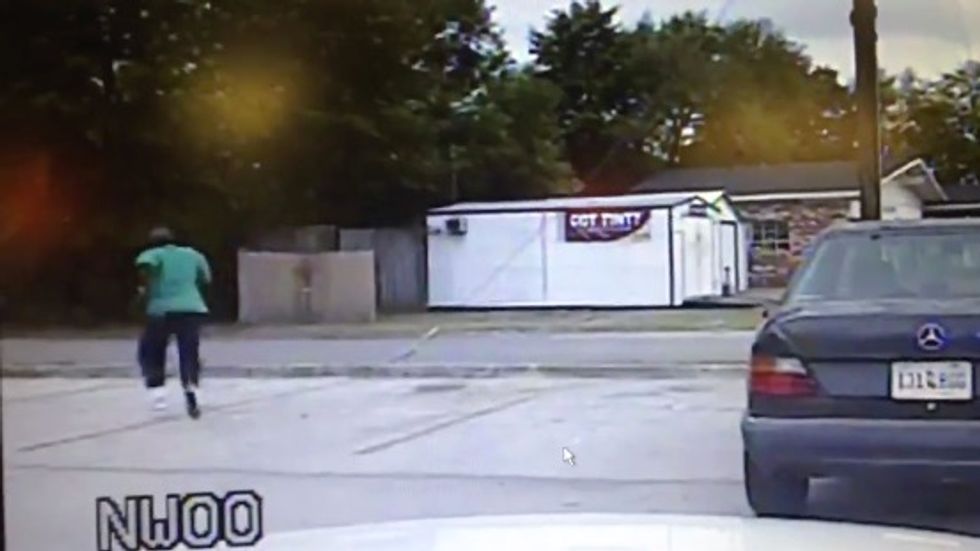 Image source: Screen grab 
"You do?" a stunned Steve Doocey asked.
"This is a horrible, horrible shooting but there was no premeditation. This is manslaughter. I believe that this is manslaughter," he responded. "And I think if I were the officer's attorney I would begin the negotiation for that plea immediately."
Still, he made a point to say that the officer's ultimate actions are "unforgivable" and even a righteous traffic stop doesn't justify the officer's actions.
Watch below:
Slager has been charged with the murder of Walter Scott and fired from his position.
UPDATE 11:00 a.m. ET:
Rivera took to Twitter to defend his argument:
S.Carolina cop Michael Slager did a terrible thing in shooting unarmed #WalterScott in the back on tape. But it was Manslaughter not Murder.

— Geraldo Rivera (@GeraldoRivera) April 10, 2015
Manslaughter=killing another without the malice necessary for murder usually in the heat of passion after a legally sufficient provocation

— Geraldo Rivera (@GeraldoRivera) April 10, 2015
SC Police Officer Michael Slager should be charged with manslaughter not murder in the inexcusable death of Walter Scott.

— Geraldo Rivera (@GeraldoRivera) April 10, 2015