Some would say an eighth grader who guessed his teacher's computer password and changed his desktop photo was just a kid being a kid. In the eyes of the law though, it was a felony.
The Tampa Bay Times reported that Domanik Green was charged by the Pasco County Sheriff's Office this week with "offense against a computer system and unauthorized access" for logging into the teacher's computer and changing the desktop image to one of two men kissing. WTSP-TV described the image more specifically as pornographic.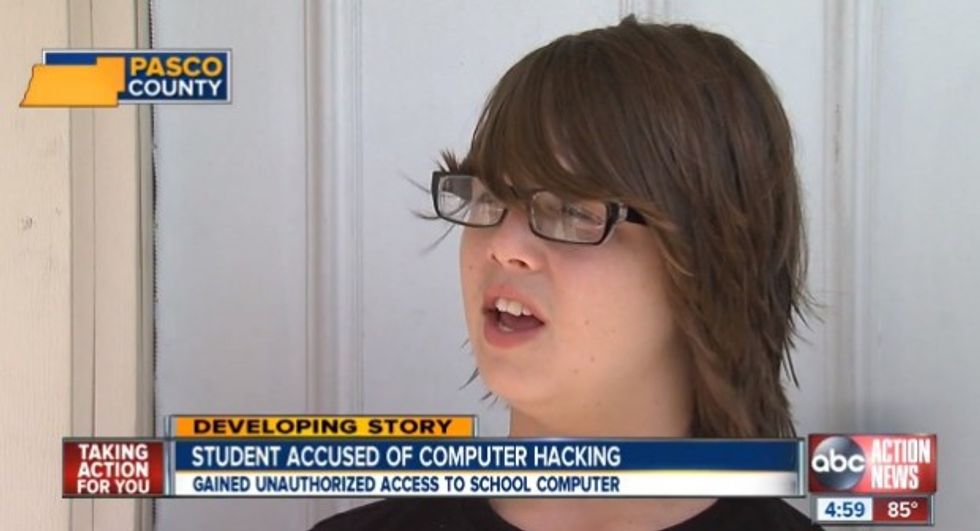 Domanik Green admits to guessing a password that allowed him to access the school's administrative server. He posted a pornographic picture on the teacher's desktop. (Image source: WFTS-TV)
The incident happened last week at Paul R. Smith Middle School. Green told the newspaper this wasn't the first time he and his friends had gotten into the system with an administrative login.
This time though, he "logged into a teacher's computer who I didn't like and tried putting inappropriate pictures onto his computer to annoy him," the 14-year-old admitted to the Times, revealing that he guessed the password, which was the teacher's last name.
In an interview with WFTS-TV, Green said he "wasn't really thinking"  and "was just kind of annoyed at the teacher that day."
The incident happened while the teacher was out and a substitute reported it. There was concern that the student might have accessed standardized test answers, but authorities determined that was not the case.
"Even though some might say this is just a teenage prank, who knows what this teenager might have done," Sheriff Chris Nocco told the newspaper. "If information comes back to us and we get evidence [that other kids have done it], they're going to face the same consequences."
The Times reported that Green had been suspended before for improper computer access and this time he will served a 10-day suspension.
Green's mother, Eileen Foster, told WFTS her son will also be moved to another school, but she doesn't think his crime is worth a felony charge.
"He had the chance to get into the FCAT files, he had the chance to change grades, to do whatever you can do in the FCAT files and he didn't take it," Foster told WTSP. "I think that alone proves he doesn't deserve a felony charge.
Other parents blamed the school to an extent.
"It's extremely alarming and they should have better security on these things so these 14-, 15-, 16-year-olds can't hack the system," Dawn Meguin told the news station.
(H/T: Gawker)
—
Front page image via Shutterstock.