NASHVILLE -- Before mentioning the National Rifle Association or even firearms at the gun rights group's annual meeting in Nashville on Friday, Wisconsin Gov. Scott Walker, a Republican, asked all the men and women in the audience who serve or have served in the armed forces to stand so they could be properly thanked.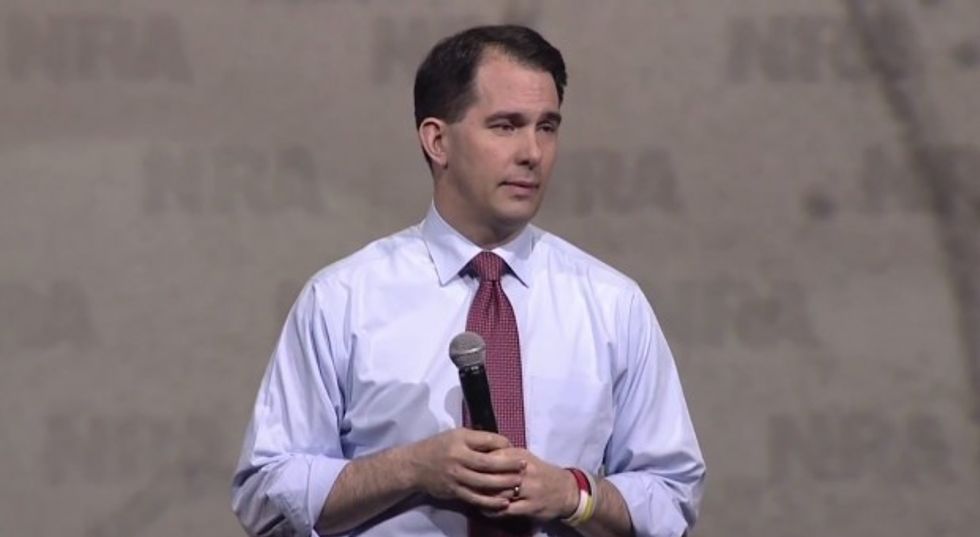 (Screengrab via NRA)
"Freedom. Endowed by our Creator. Defined by our Constitution, but defended each and every day by the men and women who proudly wear the uniform of these United States," Walker began.
He then asked anyone who is serving or has served in the military to stand and be recognized. Predictably, the audience immediately erupted in applause.
The governor said he carries patches with him every day to remind him of the men and women from the National Guard units in Wisconsin that are still deployed today.
Prior to that, Walker received a standing ovation when he was introduced on stage -- and it would be the first of several during the speech that was well-received by attendees.
Walker, a possible 2016 GOP presidential candidate, then touted his A+ NRA rating, calling it a "badge of honor" even if the left considers it a "Scarlet Letter."
But his speech quickly turned political. Walker went after President Barack Obama for seemingly forgetting that he took an oath to "preserve, protect and defend the Constitution of the United States."
"Well, Mr. President, last time I checked the Second Amendment is part of that Constitution," Walker said, adding that the country deserves a president who understands that.
He continued hammering Obama, criticizing the president as someone who "draws a line in the sand and allows people to cross it – we've got a president who calls ISIS the 'JV squad', Yemen a success story and Iran a place we can do business with."
Walker received another standing ovation when he told the audience that American needs a commander-in-chief who understands that "radical Islamic terrorism is a threat" and will actually treat Israel like an ally.
But in closing, Walker talked about his optimism for the future and the reason why America has always been "exceptional."
In times of crisis, Walker said, "there have been men and women of courage who have been willing to stand up and think more about the future of their children and grandchildren then they thought about their own futures."
"Let this be that moment in history," he concluded.
---