© 2023 Blaze Media LLC. All rights reserved.
She Had Just Returned From the Mission Field and Never Competed in a Beauty Pageant Before, but Said She Felt God Calling Her to It. She Won.
"'You know what? This dress is amazing, and I feel gorgeous in it — and I'm modest."
Bekah Pence had never entered a beauty pageant before, but the 29 year old, who returned late last year from serving as a Mormon missionary in Las Vegas, said that she recently felt God calling her to do just that.
And now Pence, who ended up winning the Ms. Virginia United States title on April 12, is using her newfound platform to share her faith and to let young girls know that it's entirely possible to be glamorous and beautiful, while still remaining modest, according to Deseret News.
"I'm a firm believer in not just being modest, but you can also be absolutely drop-dead gorgeous, not just beautiful. I feel like girls don't feel that way. They think that it's a step down if you're modest," she told Deseret News. "They don't think you can be absolutely gorgeous, but I felt that way. I felt like, 'You know what? This dress is amazing, and I feel gorgeous in it — and I'm modest."
Going into the competition, Pence said that maintaining her modesty — something that can be difficult in the pageant world — was one of her primary goals. In fact, she was the only woman in the competition to wear a one-piece bathing suit, which her fellow contestants actually complimented her on.
"I absolutely believe in modesty, and I believe that if heavenly father asked me to be modest, he will also help me find a way to make that happen," she said. "I have to say, 100 percent, it was not easy at all."
With the help of her mother, who altered each outfit she wore for the competition, Pence was able to stand by her values and come out on top. In the end, the newly minted beauty queen's central goal was to let other women know that it's possible to shine, while remaining humble.
Pence's stance is particularly intriguing when considering her back story and the fact that she won the competition, despite never participating in a beauty pageant before.
Her motivation to enter the Ms. Virginia competition was entirely rooted in her faith, she said.
"I didn't get into this pageant because I wanted to," she told the outlet. "It actually was an opportunity that I felt like, by the spirit, heavenly father wanted me to take."
In a GoFundMe fundraising appeal she posted for the competition, Pence said that she had always wanted to compete in a pageant, but could never quite find the right time. But after serving her mission for The Church of Jesus Christ of Latter-day Saints in Las Vegas last year, she said that she found herself looking for new ways to share her faith with others.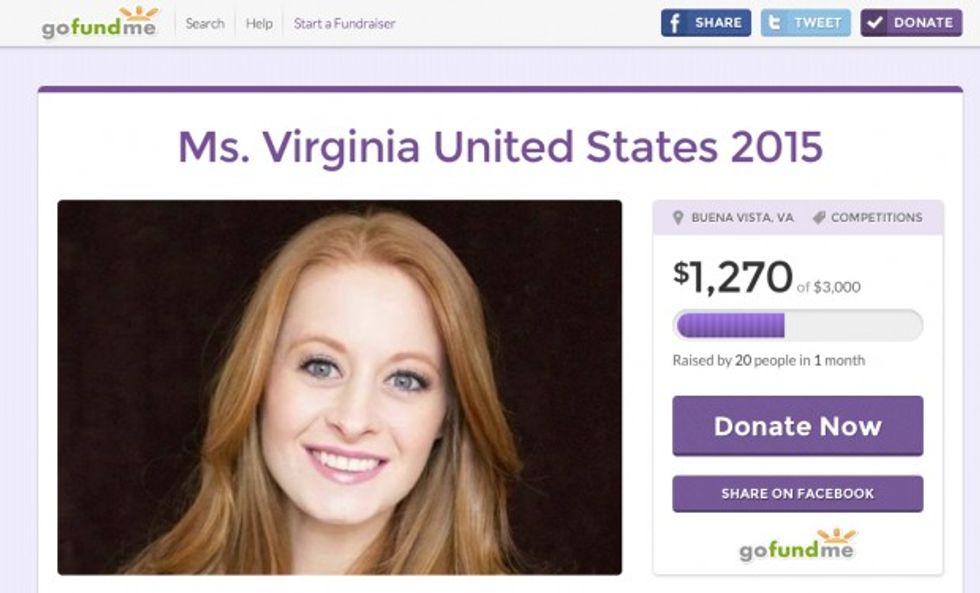 GoFundMe
"When I returned home, I wanted to continue to make a difference and help others realize their worth and personal capacity for good," she wrote. "Now as I compete in the Miss Virginia, United States pageant I feel that I can continue to make a difference in the lives of others as I strive to be an example and role model of goodness, and selfless service."
She said that she had no plans to win the Ms. Virginia competition and that she merely viewed it as a way to inspire young women, though she was in for a surprise on April 12 when she captured the title, with her faith showing through as the centerpiece of her character.
While on the stage, Pence talked about strong families, which she said can be built if families choose to pray together, and encouraged young people to maintain high moral standards.
Pence will go on to compete in the Ms. United States competition in July.
(H/T: Deseret News)
Want to leave a tip?
We answer to you. Help keep our content free of advertisers and big tech censorship by leaving a tip today.
more stories
Sign up for the Blaze newsletter
By signing up, you agree to our
Privacy Policy
and
Terms of Use
, and agree to receive content that may sometimes include advertisements. You may opt out at any time.