It was a prom proposal with a red carpet feel.
As James made his way from outside Glenelg High School in Howard County, Maryland, to the middle of the basketball court inside, cameras followed right behind him all the way. A room full of classmates awaited him inside – but little did he know why they had gathered there.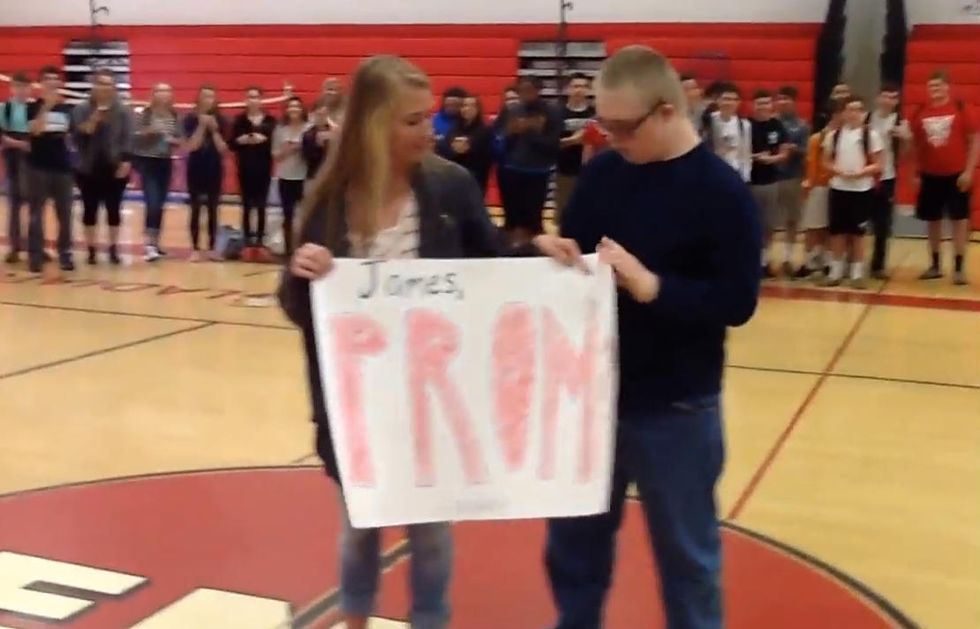 Image source: YouTube
James, who has Down Syndrome, stepped inside the large circle that his classmates had formed, dancing as they started to chant.
"Are you ready?" a voice called out.
"For what?" James asked.
Moments later James made his way to the center of the circle where he danced some more as they chanted in unison. But the crowd suddenly stopped cheering as one of James' classmates, Maisy, walked toward him carrying a sign.
James glanced at the sign, looked back up and smiled as the students started cheering again. The pair then hugged and posed for pictures while holding the sign.
"James, prom?" her sign read as Maisy and James turned it around.
Watch the touching moment when Maisy popped the question to James:
(H/T: WTTG-TV)
–
Follow Jon Street (@JonStreet) on Twitter