The distraught uncle of a 1-year-old who was shot in the head during a Thursday drive-by shooting in the Seattle area interrupted a live news report to deliver a message to the community.
As a KIRO-TV reporter explained on the air that the infant was "brain dead" but still alive, Edmond "Mackie" McNeil suddenly exited the hospital and walked in front of the camera, identifying himself as the "uncle."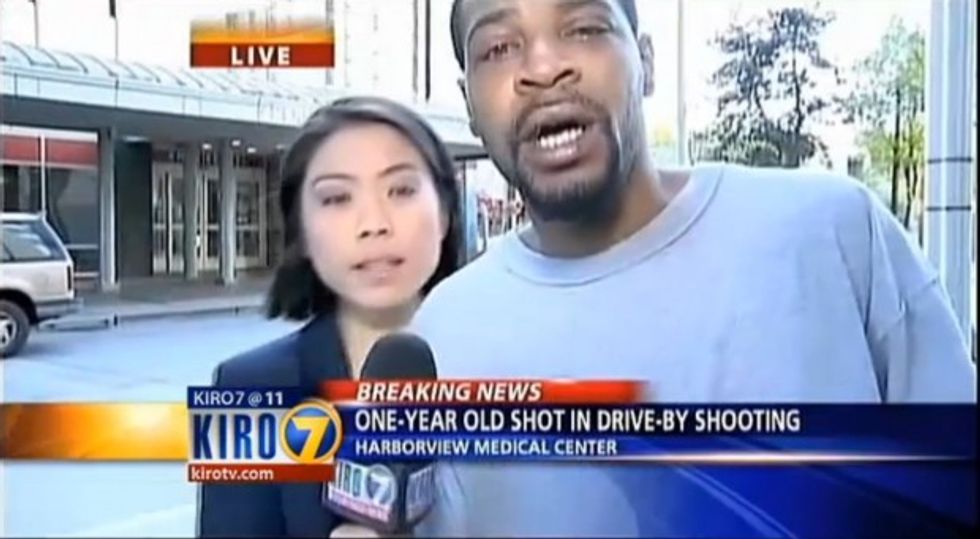 Screengrab via KIRO-TV
Still seemingly in a state of emotional shock, McNeil said his niece is "going to be alright."
"We'd like the family to have peace. And people not to be talking to us and stuff. We'd like a little privacy," he added. "The baby's gonna make it, everything's going to be alright. We've got faith in God."
The reporter then asked the uncle if he knew "what happened," to which McNeil replied sternly, "Ma'am, you know what happened, don't play games with us."
He then delivered a message to the people responsible for shooting his young niece, Malaja:
"We need to stop the Seattle violence. Come on, man. CD, Southend, whoever, wherever…It's over. We're trying to live for our kids. Everybody needs to live for your kids now. It's over. You ain't no gangster because you want to carry a gun. That's stupid! Live for your kids. Be a PTA parent."
Watch the moment below:
Police said the drive-by shooting was the result of a road rage, KIRO-TV reported. A police spokeswoman said the vehicle carrying Malaja tried to turn at the same time as a black sedan, resulting in "some sort of exchange."
The suspects then allegedly opened fire. Only Malaja was shot.
Police are still searching for the individuals responsible.
(H/T: Mediaite)
---