Glenn Beck on Monday interviewed Wisc. Gov. Scott Walker (R), who is widely expected to be running for president in 2016. Though Beck had reservations before the interview, when it concluded, Beck said he "loved" the man.
"I loved him," Beck said. "I was really impressed with him, really liked him. [I] thought he had great answers for everything. We didn't push him to the wall on things, but it's our first meeting and I thought he had really reasonable answers."
Beck said he would like to speak with Walker more about immigration and the Middle East, but he was "very impressed" with what he heard.
The two discussed everything from Common Core -- which Walker said he would "absolutely" repeal if it came to his desk -- to Walker's accomplishments as governor of a deep blue state.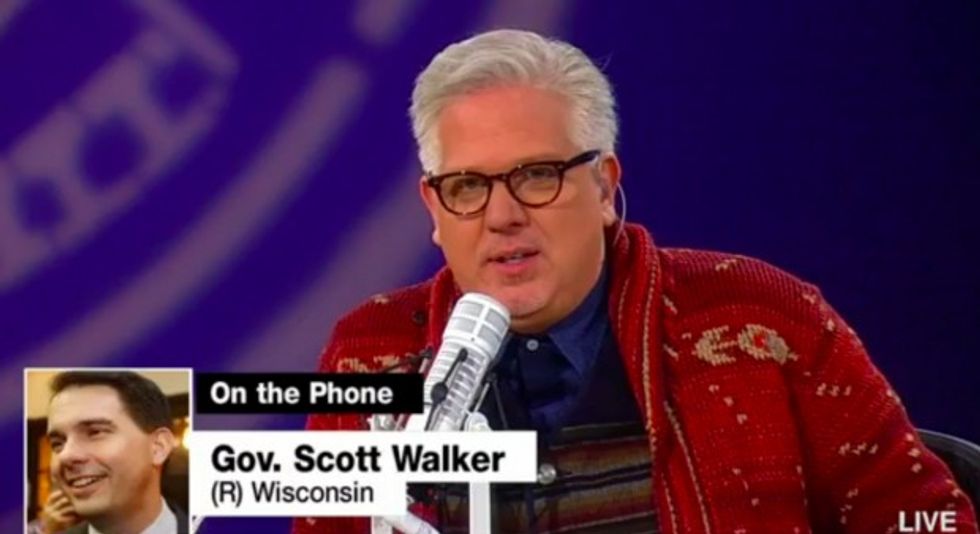 Glenn Beck speaks with Wisc. Gov. Scott Walker on his radio program April 20, 2015. (Photo: TheBlaze TV)
"It is the home of the progressive movement," Walker said of Wisconsin. "Collective bargaining was started there. ... It was the state that had the first income tax. Who would have thought that in that city, in the state of Wisconsin, which hasn't gone Republican for president since 1984, we would be able to take on four years ago the Public Employees Union? And not only win that battle, but win the recalls against a whole bunch of state senators? Win a recall against me and the lieutenant governor?"
"But now Wisconsin, when it comes to public employee unions ... we can hire and fire based on merit," Walker continued. "We can pay based on performance. We're the 25th state in the nation that has a right-to-work. We have photo ID requirements for voting. We defunded Planned Parenthood. ... We cut taxes by $2 billion and property taxes are lower today than they were four years ago. Who would have thought that would happen?"
"Good God," Beck remarked.
"But we said shortly after the 2010 election, we had to go big and we had to go bold," Walker added. "It was put up or shut up time. And even in Madison, Wisconsin, we were able to get that done."
Beck asked the governor what the secret is to making such bold changes.
"We had to win amongst independents by 11, almost 12-point margins," Walker responded. "The interesting thing is, to win the center, you don't have to move to the center of the issues. You have to lead. You have to clearly spell out what you're going to do. Tell the people what you'll do, and then do it."
Beck said he is still a little "nervous" that Walker is an "establishment" Republican, but between Walker and the already-announced presidential candidates, there are "tremendous possibilities" for 2016.
[mlbvideo content_id=81554683]
The full episode of The Glenn Beck Program, along with many other live-streaming shows and thousands of hours of on-demand content, is available on just about any digital device. Click here to watch every Glenn Beck episode from the past 30 days for just $1!