On Monday night MSNBC host Rachel Maddow took the time to criticize the police in Baltimore -- a sentiment her guest wasn't completely buying.
The host was speaking with Baltimore Sun reporter Erica Green about the riots in the city. Green was detailing the injuries to the Baltimore police officers hit by the rocks and bricks thrown by rioters when Maddow cut her off to say, "What's striking about that report, because you saw it firsthand as a reporter...You don't expect police to be throwing bricks."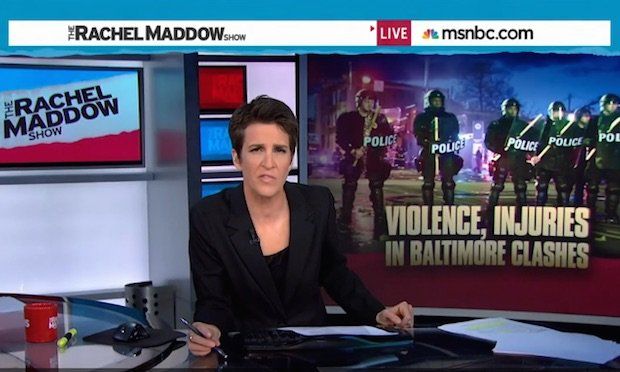 Image source: MSNBC 
Maddow mentioned the Baltimore police department's use of pepper spray and tear gas to control the rioters before adding, "But, if they're picking up things that have been thrown at them and throwing them back, that implies to me, just as a lay observer, that the police feel, that the police are a little bit out of control, or that they may not necessarily be using disciplined police tactics."
She asked Green, "Was that your perspective?"
The Baltimore Sun reporter replied, "I watched the police have things hurled at them a very long time, and they didn't do anything." Adding, "I have it on video, they definitely returned, you know, they definitely threw things."
Green continued talking about the police reaction to the rock throwing rioters, "I'm not going to say they're out of control, that's for other people to decide. Things were thrown at them for a very long time."
Watch the segment:
__
Follow Mike Opelka (@Stuntbrain) on Twitter.