A "leading data mining firm" has discovered roughly 20 to 50 social media accounts that suggest "striking connections" between the Baltimore riots and the violence that gripped Ferguson, Missouri, earlier this year, Fox News reports.
The "surprising" social media analysis may suggest that "professional protesters" are intentionally agitating racially charged cases in order to create chaos and incite violence. The firm asked to remain anonymous due to its work in government.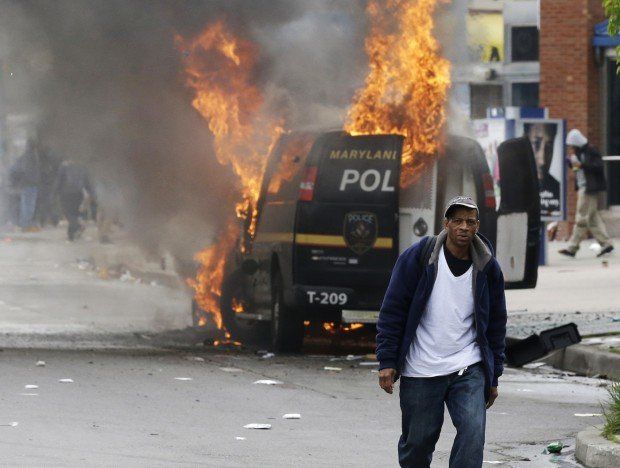 A man walks past a burning police vehicle, Monday, April 27, 2015, during unrest following the funeral of Freddie Gray in Baltimore. (AP Photo/Patrick Semansky)
Baltimore was rocked by violence riots on Monday in the aftermath of the death of Freddie Gray, who died of a serious spine injury while in police custody earlier this month. Gray's funeral was also held on Monday.
More from the Fox News report:
One account, which also tracked the recent union protests in New York City as well as other disturbances, tweeted photos of Gray's funeral and used language that seemed to anticipate violence in Baltimore.

The discovery that some social media accounts were tied to cities 825 miles apart was described to Fox News as "surprising." While it is possible to spoof accounts and make it appear as if someone is in one location when they are really in another, the data mining firm told Fox News that it can't fully explain the numbers.

The use of social media to fuel violence in Baltimore has already been highlighted by law enforcement. On Monday, police said an online call was issued for a "purge" at 3 p.m. ET, starting at Mondawmin Mall and ending in the downtown area. That type of threat is based on a movie called "The Purge,"  the plot of which involves rampant lawlessness.
Baltimore's Mayor Stephanie Rawlings-Blake issued a mandatory 10 p.m. to 5 a.m. curfew after the situation got completely out of control on Monday. Police made roughly 200 of arrests and 20 officers were reportedly injured.
---