Glenn Beck on Thursday said he couldn't believe that Sister Diana Momeka, an Iraqi nun, was denied a visa by the U.S. consulate in Erbil, Iraq to enter the United States.
"Remember, we're just letting people come in across the border," Beck fumed on his television program. "We don't care. ... [She wants to come] for a reason. She has a reason to come into the country; we don't let [her] in."
Momeka had planned to speak with the Senate and House foreign relations committees, the State Department, USAID, and various NGOs about the persecution of Christians in Iraq by the Islamic State, but was denied in part because she was not found to have "ties that will compel you to return to your home country after your travel to the United States."
Momeka said a consular officer told her it was because, as an internally displaced person, they didn't believe that she would actually return to Iraq if she was allowed to enter the United States. Ironically, her plight as an internally displaced person is exactly what she wanted to discuss with Congress and other American organizations.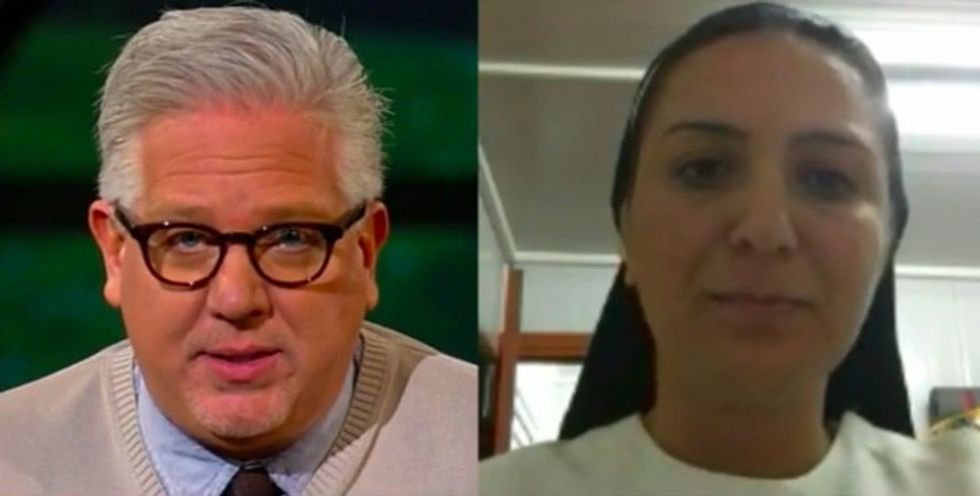 Iraqi nun Diana Momeka appears on The Glenn Beck Program April 30, 3015. (Photo: TheBlaze TV)
"I have all the support letters," Momeka told Beck. "I didn't expect that answer. ... I questioned myself, 'Is an IDP not a human anymore? ... Does that mean I'm not allowed to travel anymore?'"
Momeka lived in the United States for six years, and she even has letters of support from members of Congress for her visit.
"I am so honored to be an Iraqi Christian who has been persecuted. But I just felt I was so persecuted by this answer [from the consulate] to tell you the truth," she admitted.
Since it seems as though Momeka will not be able to address those who invited her to speak in the United States directly, Beck asked her what she would like to say to the American people.
"The message that I always carry in my heart and tell the people who really care [is] that you have brothers and sisters in Iraq who have been many times refused," she said. "They need to feel they are loved, they are cared for in so many ways, especially now that we don't know if we have any future anymore because our children are without proper schooling. ... What I would like to say to people who care about us is please, please, please, please, keep us in your prayers. We are facing a very, very difficult time."
Beck began to tear up as he responded: "Sister, to be real honest with you, I don't think I'm alone that -- we know what's going on. We know that God won't hold us blameless. But we feel ill-equipped. Every day I come in to this show and I do this show, and I feel like -- honestly I'm watching you in a monitor. I see the camera take the angle ... where I'm sitting in this nice chair in this air conditioned studio. And I'm talking to you and I'm thinking to myself, 'What the hell are you doing? You should be out helping.'"
"But I don't know how to help," Beck continued. "And I think that most of our audience feels the same way. We know what's going on, sister. We just don't know what to do."
"Pray for us that we can return to our homes, because without our homes, we have become people without identity," Momeka responded. "[For example], I can't have a visa because I'm an IDP. ... Keep praying and tell the world to find some way to help us return to our towns, to our churches, to our universities, to our lives. That's the most important thing for us."
"There are millions of people who are praying for you," Beck concluded. "Know that you are loved and we will talk again, sister. God bless you."
[mlbvideo content_id=95802983]
The full episode of The Glenn Beck Program, along with many other live-streaming shows and thousands of hours of on-demand content, is available on just about any digital device. Click here to watch every Glenn Beck episode from the past 30 days for just $1!