As a presidential candidate in 2007, then-Sen. Barack Obama introduced legislation requiring all donations to presidential libraries be made public, a dig at his Democratic primary opponent, then-New York Sen. Hillary Clinton.
As president, the Obama White House was less than transparent Friday when asked about the transparency of donors to Obama's future presidential library, referring all questions to the Barack Obama Foundation. For its part, the foundation touted its high standards for donor disclosure.
White House press secretary Josh Earnest resisted answering basic questions on the Obama presidential library, the location or how public the contributions to the library would be. This comes a day after it was widely reported that the presidential library will be based in Chicago, reports Earnest would not confirm.
One reporter asked about Obama's criticism of Hillary Clinton during the 2008 campaign regarding secrecy in donations to Bill Clinton's presidential library, and asked if Obama would commit to "being 100 percent transparent when it comes to donors to his library?"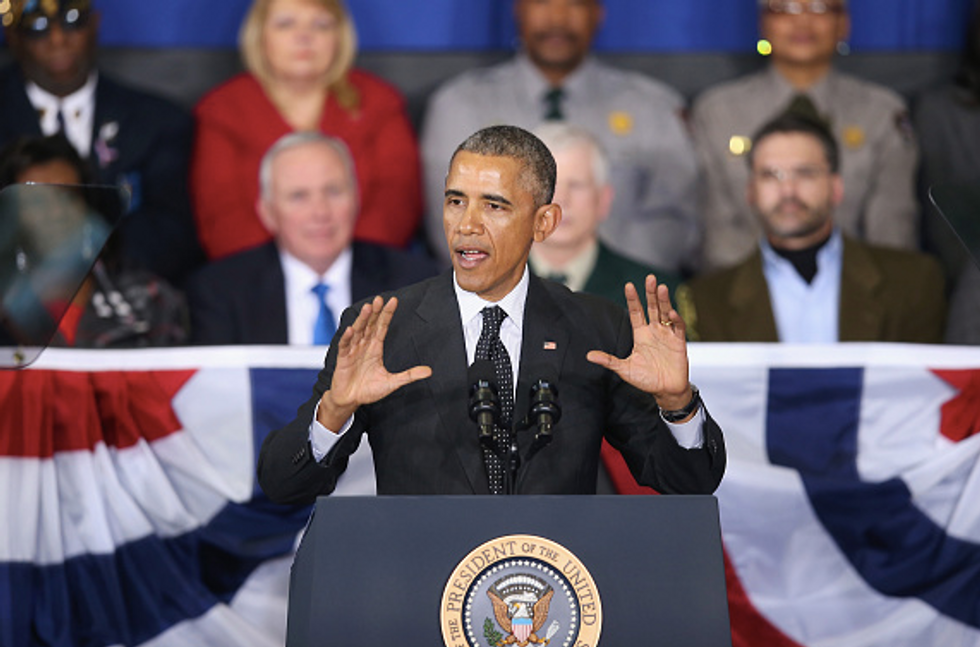 President Barack Obama speaks to guests at the Gwendolyn Brooks College Preparatory Academy on February 19, 2015 in Chicago, Illinois.  (Photo by Scott Olson/Getty Images)
Earnest repeated his answer to previous questions on the library.
"I would refer you to my colleagues who are much more steeped in the details of fundraising guidelines and practices of the Obama library," Earnest said.
Pressed further on the matter, Earnest said, "I know my colleagues at the foundation would do a better job at answering that than I can."
Obama Foundation spokeswoman Olivia Alair Dalton said that the foundation adheres to strong transparency rules reflecting those of the Obama campaigns.
"The foundation follows strict donation guidelines that are in line with those adopted by the president for his campaigns," Alair told TheBlaze in a statement Friday. "The foundation does not accept donations from entities or organizations other than those also operating under section 501(c)(3), and it will also not accept support from foreign nationals, currently registered federal lobbyists or foreign agents."
Alair added that all donors giving more than $200 are disclosed on a quarterly basis.