ROME (TheBlaze/AP) — California seems poised to kick him to the curb, but the Catholic Church is rallying behind this long-dead missionary.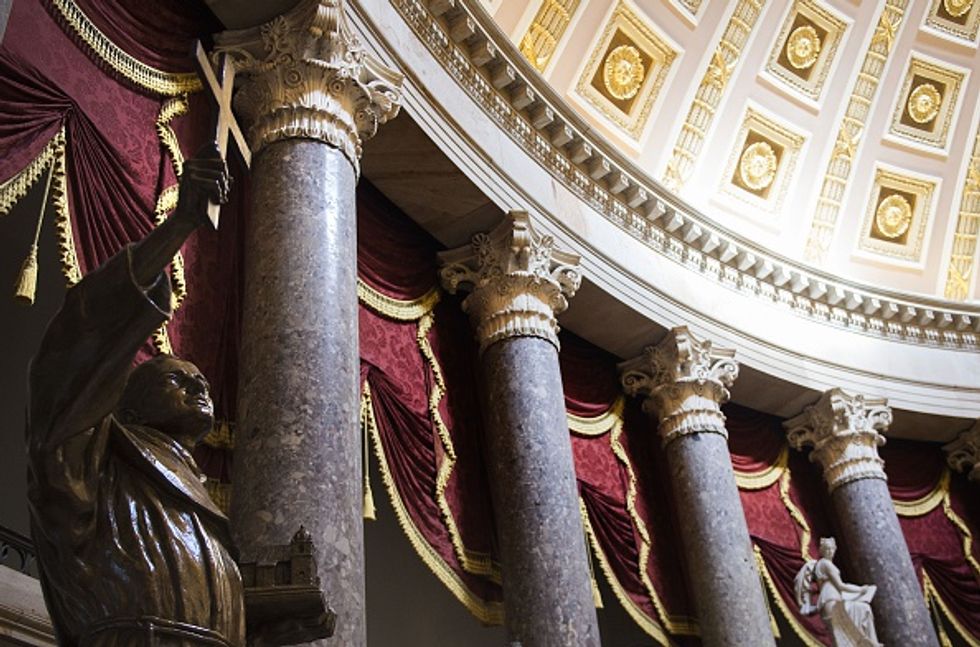 A statue of Father Junipero Serra, the founder of Californias missions and a controversial figure for his role in a process that began the decimation of the Native American population, stands in Statuary Hall in the US Capitol in Washington, DC, January 30, 2015. Pope Francis announced January 29, 2015, his plans to canonize Serra in September 2015 when hes scheduled to visit the East Coast. (Jim Watson/AFP/Getty Images)
Pope Francis has praised the "holiness" and "zeal" of an 18th-century Franciscan missionary he'll make a saint when he visits the United States this fall but whom some Native Americans in California contend brutally converted indigenous people to Christianity.
Francis on Saturday praised the accomplishments and qualities of Rev. Junipero Serra during a homily at a Rome seminary training future priests from North America. The pope will elevate the Spanish native to sainthood in a ceremony in Washington, D.C. in Sept. 23, during his U.S. pilgrimage.
Native Americans have held protests in California, saying instead of being honored, Serra should be criticized for what they say is his role in wiping out native populations in a brutal campaign to impose Catholicism.
Francis says Serra defended natives against "abuses by the colonizers."
Others in the church have also defended Serra.
"He traveled to the periphery of the world — California was the end of world back then — to share his love of God with the Native Americans, whom he deeply loved and they loved him in return," Msgr. Francis Weber told the National Catholic Reporter last month.
The Catholic Church's move to canonize Serra comes as the California state Senate has voted to remove Serra's statue from the U.S. Capitol's statuary hall.
Each state can place two of its honored citizens in the hall. Currently, a statue of President Ronald Reagan stands alongside Serra's effigy, but a proposal pushed by California Democrats would replace Serra with Sally Ride, a lesbian Californian and the first woman in space who died in 2013.
—
Follow Zach Noble (@thezachnoble) on Twitter