If you're feeling sore about Floyd Mayweather Jr.'s victory-by-decision over Manny Pacquiao Saturday night, you might take some consolation by knowing Pacquiao was the "victor" on "Saturday Night Live."
But did an "SNL" skit reveal the show struggling with diversity?
In the cold open Saturday, the "SNL" crew acknowledged how tough it would be to compete for eyeballs against the massively hyped boxing match, so they aired a "pirated" version of the fight.
Jay Pharoah played Mayweather and Aidy Bryant played Pacquiao.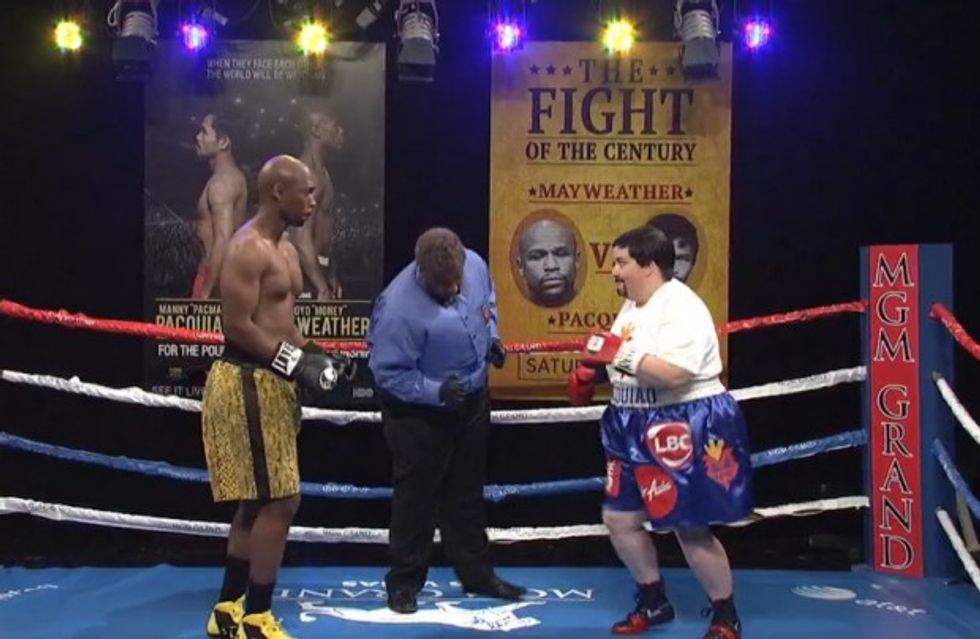 Image via NBC
Some on Twitter noted that the casting — along with Pharoah playing Orioles' player Manny Machado in a later sketch — showed that on "SNL," "diversity is a work-in-progress."
Lack of diversity on #SNL cast once again proven by having a white woman play Pacquiao in a opening skit?! #really? #kindapatheticandsad

— Action JoJo (@Action_JoJo) May 3, 2015
With Aidy Bryant as Manny Pacquiao and Jay Pharoah as Manny Machado, "SNL" was determined to show its diversity is a work-in-progress.

— Daniel Fienberg (@HitFixDaniel) May 3, 2015
Watch the sketch below:
"SNL" has taken heavy criticism for not having a diverse enough cast, and while several relatively recent hires have bolstered the number of black comics in the show's cast, some still decry the lack of Asians and other ethnicities on the comedy show.
While some took jabs, at least one Pacquiao fan found comfort in the Filipino boxer's "victory" on SNL.
Pacquiao won on SNL so I'm good lmao

— The Supreme (@auramando) May 3, 2015
—
Follow Zach Noble (@thezachnoble) on Twitter