Glenn Beck on Tuesday said he is still a "full-fledged" supporter of Republican presidential candidate Ted Cruz, despite recent reports to the contrary. The confusion stems from a comment Beck made on his radio program Monday, where he said he wasn't sure Cruz could govern if elected in 2016.
"So does that mean that Glenn Beck is a psycho, schizophrenic, has changed his mind? Or am I missing a piece of information?" Beck asked on his radio program Tuesday. "They were missing a piece of information. People who listen to this show should know that the missing piece of information ... is the world is about to change."
Beck told his audience that during the next presidency, Americans will see martial law "either regionally or across the entire country ... because there's going to be a breakdown of the system."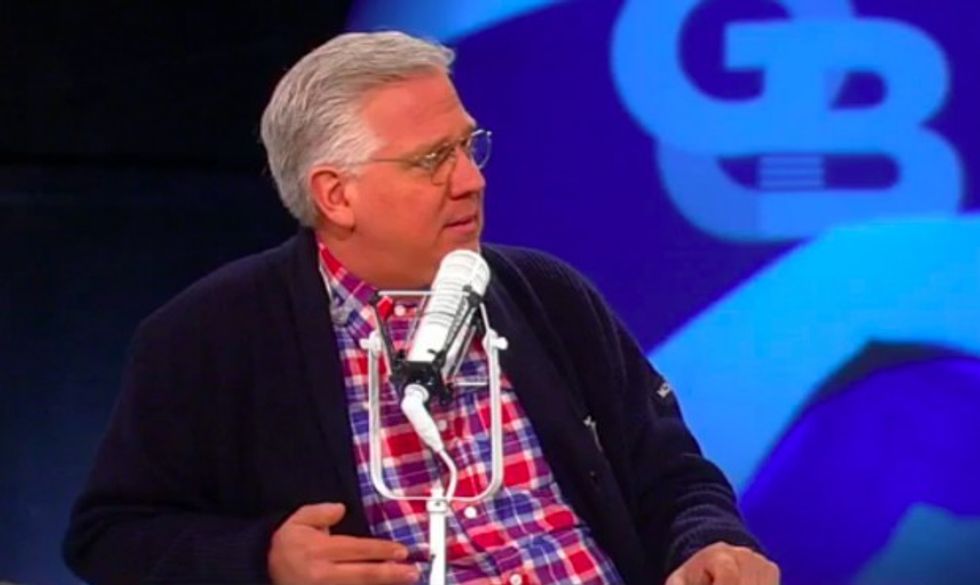 Glenn Beck speaks on his radio program May 5, 2015. (Photo: TheBlaze TV)
In a time of crisis, Beck said, he doesn't want to repeat the actions of President George W. Bush, who built a coalition that "abandoned free market principles to save the free market system."
The fact that Ted Cruz may have difficulty building a coalition, Beck said, could actually be one of his strengths.
"I would expect Cruz to lead in a different way if he were elected," Beck explained. "He'd go to the people with a healthy dose of common sense and try to change things from the bottom up, rather than trading favors for the compromising of his values. "
Beck warned that the economic instability could be much greater under the next president than it was under President Bush. The government could close the banks, there could be riots in the streets and a "complete crackdown" from which you "never get your freedoms back."
But with the right leader, Beck said, the country could actually unite in the time of crisis.
"I don't know which way it's going to go," Beck admitted. "But it's important that you have a constitutionalist at that moment to govern, because they're going to have to reset this system. And are they going to reset it to the Constitution? Or are they going to look to a new system to reset it?"
Beck said it is Cruz's steadfast refusal to cut deals that makes him the ideal president for the tumultuous times ahead.
"I want Ted Cruz because I believe we are going to face tough times," Beck concluded. "I want somebody that will take that and, with a velvet hand, will put uprisings down if we have them and then let the hand off and restore our freedoms again."
[mlbvideo content_id=102206983]
The full episode of The Glenn Beck Program, along with many other live-streaming shows and thousands of hours of on-demand content, is available on just about any digital device. Click here to watch every Glenn Beck episode from the past 30 days for just $1!