It had been a week of awareness-raising at a Pennsylvania high school — teen suicide, disabilities and other issues were marked by students wearing specifically colored T-shirts each day in recognition of each issue.
On the final day last Friday, Bangor Area High School's Gay-Straight Alliance — which organized the weeklong project — encouraged students to wear rainbow-colored T-shirts to draw attention to LGBT issues.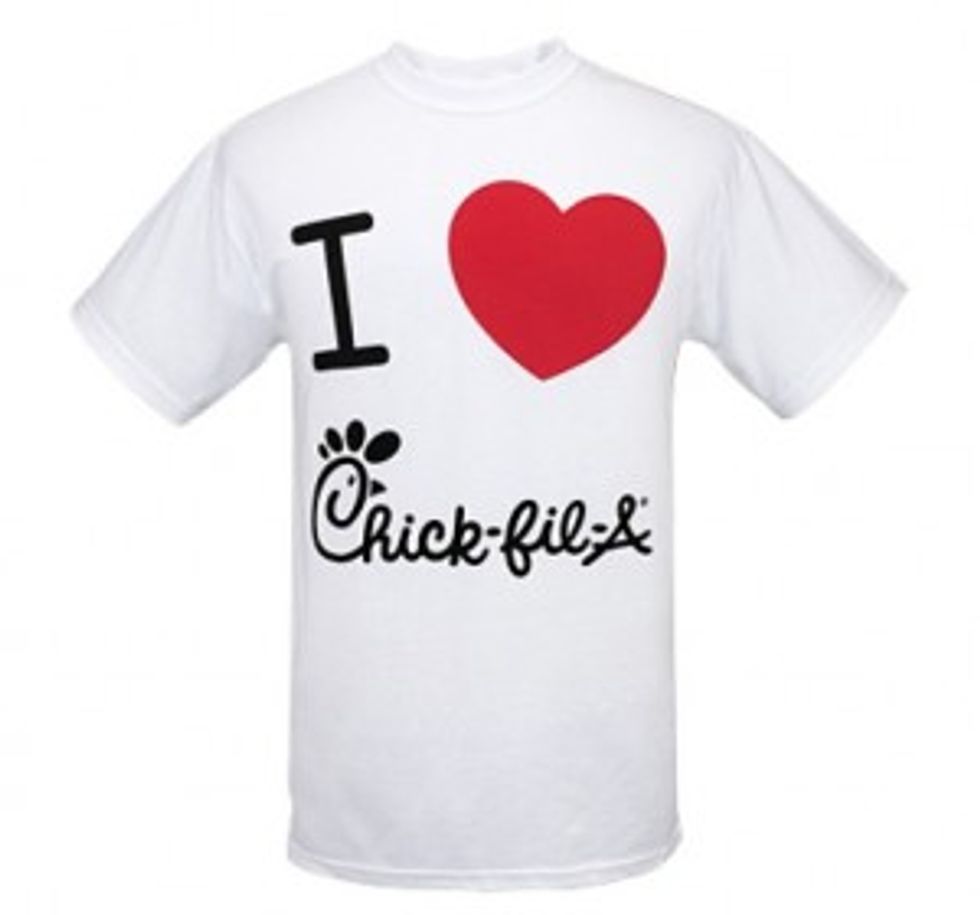 Image source: Chick-fil-A.com
But during televised morning announcements at the school, two of the students seen onscreen wore Chick-fil-A shirts instead, senior Erin Snyder told the Morning Call.
And then the backlash began.
Although the pair of boys didn't say anything during the broadcast about the rainbow T-shirt day or LGBT issues, seeing them in attire from Chick-fil-A — the fast-food chain that came under fire in 2012 after its CEO publicly supported traditional marriage — angered some fellow students.
During school hours a group of them took to Twitter and called out the offending students. The online posts against them continued through the weekend, the Morning Call said.
Then on Monday students got the dreaded call to the principal's office — but not the boys who wore the Chick-fil-A shirts.
[sharequote align="center"]"You're expressing your feelings … Why can't he?"[/sharequote]
The students who sent the tweets were the ones in trouble. Snyder told the paper about 15 students, herself included, were suspended for tweeting during school hours and because some tweets contained obscenities. Other students were given detention, she said.
Superintendent Frank DeFelice and Tamara Gary, the principal of the high school about 90 miles north of Philadelphia, didn't respond to the Morning Call's requests for comment Thursday.
After one student tweeted support for the boys in the Chick-fil-A shirts — "You're expressing your feelings … Why can't he?" — Snyder, 18, replied in no uncertain terms: "Being an offensive [expletive] is not expressing your feelings."
Jeff Vanderpool, 16, told the paper he got suspended as well because his tweet — "Shout-out to the [expletive] in the Chik-fil-A (sic) shirts" — was threatening.
"I wouldn't be upset if they did it on a different day," Vanderpool told the Morning Call, "but it was a day to not discriminate against LGBT students, and that's what they were trying to do."
His mother, Pam Vanderpool, was angry at the school for not taking action against the students who wore the Chick-fil-A shirts.
"You want to encourage everyone to be their own person," she told the paper, "and for someone to decide it's OK for those two students to go on a morning show and wear a shirt like that with no repercussions, what is the school saying? That it's OK?"
Snyder and Vanderpool were suspended for one day, the paper said; it isn't clear if other students served longer suspensions.
[sharequote align="center"]"Being an offensive [expletive] is not expressing your feelings."[/sharequote]
More from the Morning Call:
The situation is under investigation by the American Civil Liberties Union of Pennsylvania, said Mary Catherine Roper, deputy legal director of the organization, who called the suspensions a "pretty harsh punishment."

In general, schools cannot punish students for comments made outside regular school hours.

Whether the situation violated free speech depends on what school officials thought was objectionable about the tweets, she said.

If officials objected to the content of the tweets sent during school because they contained explicitly profane or sexually graphic language, that's within the school's power, Roper said. If officials objected to the tweets because they were touching on sexual topics, that's not OK because students were discussing a political issue.

As of Thursday, the ACLU representatives had not spoken to school district officials.

Students are permitted to bring cellphones, iPods, tablets, MP3 players and other electronic devices to school, but such devices must be turned off during school hours, between 7:20 a.m. and 2:05 p.m., according to the district's policy handbook.
Some said LGBT students have been bullied at the school.
"There's a girl who wore a rainbow flag during LGBT awareness day and she was teased very badly for who she is," Jennifer Newland, president of the high school and middle school Parent Teacher Student Association, told the paper. "I know there are some girls who want to wear tuxedos to the prom, but are worried they will be sent home because they are not in gender-appropriate wear, or they will be teased."
But she added that since the uproar over the boys who wore the Chick-fil-A shirts, other students have started to wear rainbow ribbons and bracelets.
"I think our school is very open for the most part, which is why it's so upsetting to see something like this happen," Newland told the Morning Call. "It's really disappointing (those two students) felt the need to protest against a day that was supposed to be about support and anti-bullying."
—
Follow Dave Urbanski (@DaveVUrbanski) on Twitter